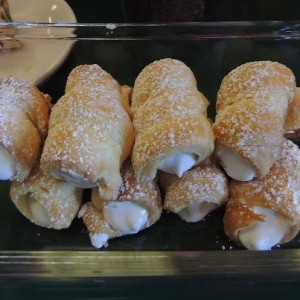 I usually try to find a bit of historical backrgound on my featured recipes but I was unsuccessful when it comes to kremrole. Is it an authentic CS dessert or did it come to us from France or some other fancy country?
There are many ways to make kremrole. There is the SUPER easy way, where you just buy a flaky pastry in your local grocery store (Pepperidge Farms brand is the best), defrost it, make tubes out of them, bake them, fill them with whipped cream and then sprinkle some powdered sugar on them.
Then there is the semi-hard way where you make either the pastry or the filling  yourself. And then there is the SUPER hard way where you do everything from scratch yourself. [click to continue…]
If you liked this post buy me a coffee! (Suggested:$3 a latte $8 for a pound) Thanks!
{ 2 comments }