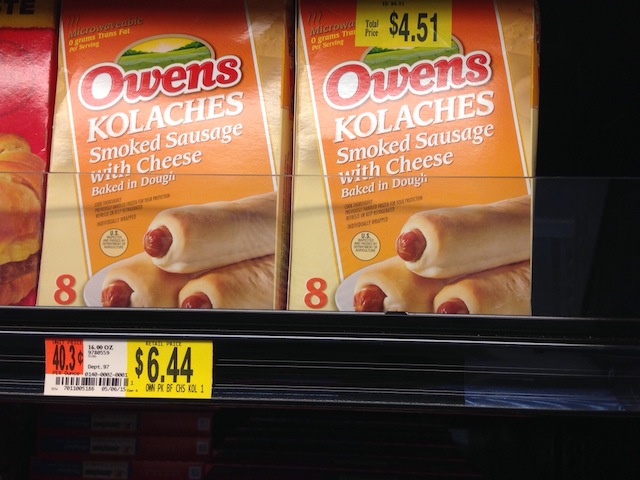 Now this is an atrocious lie! Do you see on that photo what I see? Mr. Owen is daring to call hotdog in a bun  a "KOLACHE"???!!! Now either that person is A/making a cruel joke or B/someone of a distant Czech origin described to him a long time ago what kolaches are but his description was very poor….or do you have a "C" option to explain this barbaric acton?
I took this photo not very long ago on one of my not-so-frequent-trips to Walmart.
AND here is an image (and a recipe) of true Czech/Slovak Kolache.…for comparison. Now you see what I mean?
CZ: Tak se prosim podivejte na foto, ktere jsem nedavno vyplodila ve Walmartu. Nejaky pan Owen si dovoluje nazvat parek v rohliku 'KOLACE'!!!!! Tak to uz je dost. Takoveho kacire jsem tu jeste nepotkala.
If you liked this post buy me a coffee! (Suggested:$3 a latte $8 for a pound) Thanks!