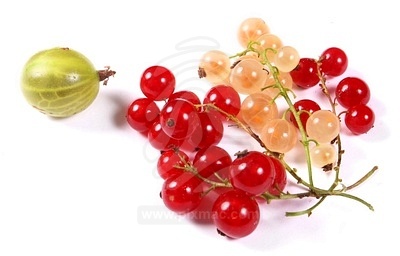 Just like you heard me complain about cherries I would like to raise another important fruit issue: currants and gooseberries. Whatever has happened to them? Did they commit some horrible crime to the American people that most of them don't even know what they are?
I happened to come across a little tiny box of some very tiny gooseberries in the grocery store the other day and since they were on sale I put them in my basket. Unfortunately, they were completely tasteless – nothing like what I was used to in the Czech Republic. You see, the Czechs grow up on currants and gooseberries. They hang over every fence and grow in almost every garden. They are easy to take care of and are also very nutritious. In fact, they are so sour at times, that one could probably overdose on vitamin C from them!
My grandma used to make the best red currant pie. Too bad I don't know the recipe (it had a shortbread-like bottom and an egg-white crust on the top with red currants mixed in…yum!). Then there is the white currant (the least sour of all) and the black currant (having the biggest amount of vitamin C).
Although gooseberries have been grown in Europe since the 12th century (especially in England), the Czechs had a late start: this fuzzy fruit began appearing in people's gardens as late as in the 19th century. But we sure made up for it later!
To get you in the true gooseberry/currant mode I found an easy Czech summer recipe:
Gooseberry and currant garden sundae (2 servings)
* handful of gooseberries and currants
* 2 cups of white yogurt
* 1 cup of mascarpone (or cream-cheese)
* 2 packages of vanilla powder (or 2 Tsp of vanilla extract)
* 2 Tbs sugar
* handful of waffles (piskoty) or other tea biscuits
Method:
1. Cut gooseberries in half
2. Mix yogurt,vanilla, sugar together; slowly mix in mascarpone, little by little, do not use an electrical mixer since the mixture would curdle
3. Use a nice glass to pile all of the ingredients in: first the waffles, layer the fruit on top and push it down a bit. Then the cream mixture.
4. Let it sit in the fridge for about an hour before you eat it.
CZ: Jak jsem si nedavno stezovala o tresnich tak ted budu fnukat kvuli rybizu a angrestu. Vsimli jste si, ze vetsina Americanu ani nevi, co jsou zac? Muj manzel ochutnal angrest pred par dny poprve! Co jim to ovoce udelalo, ze ma tak 'spatnou' povest?
V Evrope se angrest pestoval jiz ve 12. stoleti a to zejmena v klasternich zahradach. Bezneji se zacal pestovat az v 16. stoleti a to zejmena ve Francii a v Rusku. U Anglicanu ziskal takovou popularitu, ze se zakladaly angrestove spolky s vice nez 100 odrudami! V Cechach pochazi prvni zminka o jeho pestovani az z konce 18. stoleti. Ovsem od te doby si jeho dlohodobou nepritomnost – spolu s angrestem – nahradili. Jak vite, tyto kere rostou snad v kazde ceske zahrade a vykukuji z poza kazdeho plotu. Ja nevim jak vy, ale ja jsem se v detsvi pravdepodobne musela parkrat predavkovat vitaminem C (a taky jsem si tou jejich kyselinou spalila jazyk), protoze jsem toho ovoce snedla nesnesitelne moc.
Rybiz ma dokonce i zajimavesi hisorii. Pry rostl puvodne plane v mirnem subtropickem pasmu (cervena odruda). Cerny rybiz pochazi za Azie a byl nejdrive pouzivan jako leciva rostlina.
Moje babicka delala z rybizu ten nejlepsi zakusek. Bohuzel neznam recept, ale vy mi s tim mozna budete moci pomoct. Mel takovou vybornou buchtovou spodni cast a na ni byl navrsen sladky bilek smichany s rybizem….neznate to nekdo?
Ceske Noviny nabizeji velmi jednoduchy a zdravy recept tzv. Zahradniho Poharu, jehoz hlavni naplni jsou prave tyto dva ovocne druhy. Dobrou chut!
Suroviny: rybíz a angrešt, 2 x bílý jogurt, 250 g mascarpone, 2 balíčky vanilkového cukru, cukrářské piškoty nebo jiné křupavé sušenky
Příprava: Ovoce očistíme a omyjeme. Angrešt nakrájíme na poloviny. V misce smícháme jogurt s cukrem a pomalu do něj vidličkou vmícháme mascarpone. Pozor! Mascarpone se nikdy nešlehá, protože by se "srazilo". Proto pracujte
raději pomaleji a po menších dávkách. Do připravených pohárů dejte nalámané cukrářské piškoty, stačí 2 ks na pohár. Na piškoty navršte ovoce a opatrně je na piškoty přimáčkněte, aby trochu pustilo šťávu.Poslední vrstvou je krém. Pohár dejte vychladit alespoň na hodinu do lednice.
Každý si sám před konzumací pohár promíchá. Kombinace pikantního ovoce, sladkého hladkého krému a křupavých piškotů je skvělá.
Source: http://magazin.ceskenoviny.cz/vareni/zpravy/angrest-rybiz/503499
If you liked this post buy me a coffee! (Suggested:$3 a latte $8 for a pound) Thanks!