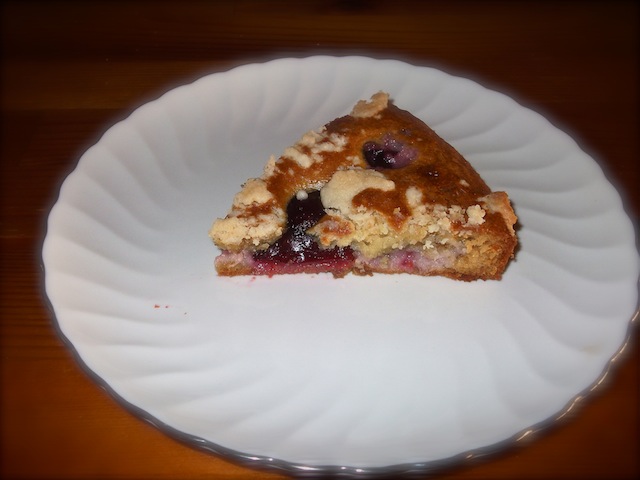 Costco is now selling plums but the problem is that it sells about 200 of them in a box so you have to consume them quickly before they go bad. One way to get rid of them is to make a delicious Czech plum cake. It is very easy and makes a great and unique entertainment food since most Americans don't know such cake.
 Ingredients:
1 cup of all-purpose flour
6 Tbs of sugar
6 Tbs of oil
1 cup of milk
1 egg
1 Tsp of baking soda
10 plums, pitted and cut in half
drobenka (crumble) for the top of the cake (recipe follows)
One large cake pan or 2 small cake pans (I made 2 circular cakes, each 9 inches in diameter)
Method:
Preheat your oven for 350 degrees F.

Mix flour together with baking sod and sugar.
Mix egg together with milk
Add oil and the egg/milk mixture (step 2)  into the flour mixture (step 1)
Stir it thoroughly until mixture appears smooth
Poor the dough into an oiled pan
Top with plum halves
Sprinkle the cake with drobenka.

To make drobenka

mix 1 cup of flour, 1/2 cup of sugar and 4 Tbs of softened butter. Use your fingers to mix the ingredients.
Bake in an oven for about 30 minutes until the cake is golden brown.
If you liked this post buy me a coffee! (Suggested:$3 a latte $8 for a pound) Thanks!