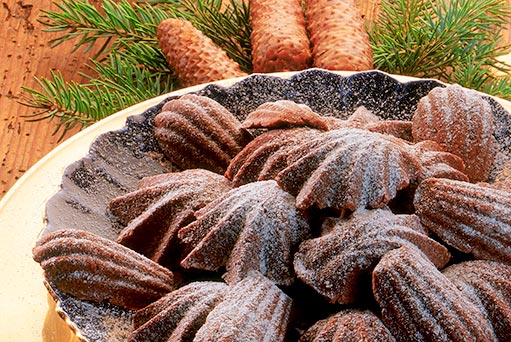 I thought I would translate yet another delicious Czech Christmas cookie recipe but after searching the internet for a bit I realized I don't have to. I don't have to translate anything or convert the European measurements because it has already been done! Barbara Rolek, who is apparently a well-known food editor, food writer and restaurant critic for daily newspapers and magazines, has done it all for us. Since her parents were Polish I bet the Czech food is close to her heart (as it is on the map) and that is why she searched for our bear paws. Or maybe the recipe has been with the Polish culture for quite some time? Either way, thank you Barbara for this recipe!
When I was a child, Christmas cookies were my grandma's specialty. Unfortunately, bear paws were not on her cookie list! I am not sure why but it is a shame. They are very easy to make and very, very delicious! And of course, fat-free and sugar-free ;0)
CZ: U nas doma se nikdy medvedi tlapicky moc nepekly a to je pekna skoda. Vzdycky jsem se jimi mohla nacpat jedine u kamaradu – tedy pokud jejich maminka nebo babicka tlapicky pekly. Zacinam ale novou tradici, uz jsem si na ne koupila formicky (tedy na madeleine cookies) a hrnu se na peceni. Tentokrat se prezeru svych vlastnich tlapicek!!!!

Czech Bear Paws or Medvedi Tlapicky
(makes about 3 dozen)
Prep Time: 20 minutes
Cook Time: 40 minutes
Total Time: 60 minutes
Ingredients:
* 2 sticks + 3 tablespoons softened butter
* 2 1/4 cups sugar
* 3 cups all-purpose flour
* 1/4 teaspoon cinnamon
* 1/8 teaspoon ground cloves
* 1/2 cup cocoa powder
* 3/4 cup ground filberts or almonds
* powdered sugar for decoration
* 1 baking pan for madeleine cookies (they have same shape as our bear paws)
Preparation:
1. Heat oven to 350 degrees. Thoroughly coat 3 bear paw molds or madeleine pans (or make them in batches) with cooking spray. In a large bowl, cream together butter and sugar. In a separate bowl, mix together flour, cinnamon, cloves, cocoa powder, and nuts. Add to butter-sugar mixture, mixing thoroughly.
2. Press dough into prepared pans and bake for about 20 minutes or until a toothpick tests clean and the edges are turning slightly brown. Cool completely.
3. Sprinkle cooled down cookies with powdered sugar
Source: http://easteuropeanfood.about.com/od/bohemianczechdesserts/r/bear-paws.htm
If you liked this post buy me a coffee! (Suggested:$3 a latte $8 for a pound) Thanks!