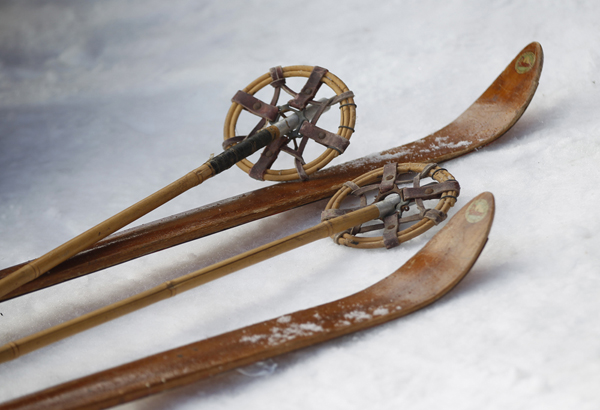 We went recently skiing with the kids for the first time and it was a great experience. What a different situation from when I was little and learned how to ski!
First of all, thank God for skiing schools! Both kids were flying down the hill (well, ok, plowing) at the end of the day with happy smiles on their faces. If I remember well, it took me a couple of years just to stand up on skis and not fall every 5 seconds. Why did it take me so long?
– children nowadays are being taught without using poles. I wasn't. From the very beginnings my dad made us always to push one pole in the snow and then make a turn. Those poles and skis were attached by an umbilical cord!
– instructors use this short rope to connect the tips of the skis so they don't spread out of control. That way only the back of the skis opens up, which the instructors call the 'pizza' position (parallel skis are called the 'french fries' position).
–  teachers are so fun! My daughters' teacher was dressed up as Batman and as a good Batman, he was coming to the rescue whenever one of the students lost control of the speed or got stuck somewhere.
- Oh, and what did they use for a lift? A cute little rubber belt that pulled the kids up just by them standing there. They did not use those evil 'pomas' (a plate attached to a metal bar that you put under your butt) like I did, which required a great concentration and an advanced skiing level. And if you did not have that, you just kept falling: either at the beginning of the lift – in front of everyone, or somewhere in the middle, which was usually in the deep part of some foggy woods. What did you do next? If you were a little grommet, you started wailing uncontrollably and waited for your parents (hopefully) to find you. If you were older, you just had to take your skis and set out for a long, streneous journey accross the snowed in woods in hopes to find some civilization again. [click to continue…]
If you liked this post buy me a coffee! (Suggested:$3 a latte $8 for a pound) Thanks!