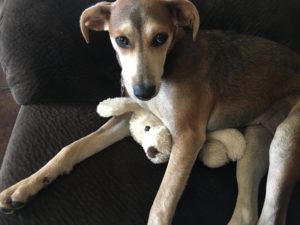 Hi everyone!
Has it been already over a year since I have written my last post??!! How shameful of me! Well, as you might imagine a lots has happened. I am now a real certified teacher with a real teacher job. I teach home schooled  kids in a local charter school and I am loving it. I love it for several reasons: I work part-time, I teach smaller groups, and I get to work with students who had a hard time attending regular school because of bullying, anxiety problems,…or they were just too smart or simply  getting into trouble. I am also teaching ALL of the subjects including English which is a bit intimidating as you can imagine.

We also got a new puppy!!!! Her name is Pixie and she is the cutest mutt ever – a rescue from Mexico. We ended up doing the genetic testing on her (yeah, I know, not a Third World problem-kind-of-a-deal) and turns out she is mostly a Tree-walking Kuhn hound dog, which is a breed I have never heard before. Although we want her to be a guard dog she seems to be more of the sensitive, artistic type ;).
My two daughters STILL speak Czech. And believe me, I have to work on it every day because the natural tendency is to slip into English. My younger daughter Ava is more outgoing than her sister and she is very vocal with her friends about speaking Czech. She even talks Czech to me when I volunteer in her class to see the reaction of her friends. It is very cute to watch. My older daughter Hahna on the other hand is too embarrassed to do so. She is in 5th grade and many things make one self-conscious if you remember.
Well, I am off now – it is time to bake Rum balls – the family's favorite!
If you liked this post buy me a coffee! (Suggested:$3 a latte $8 for a pound) Thanks!