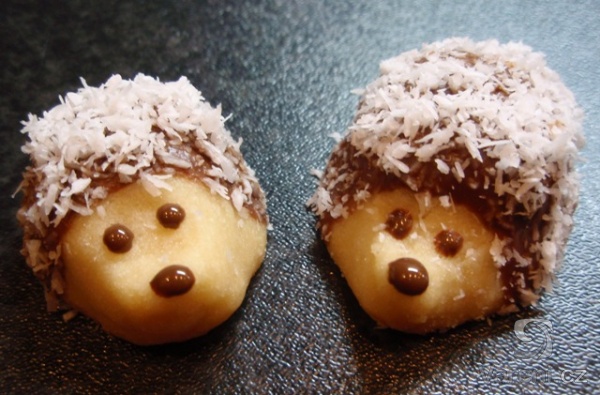 Alenka was so kind and posted her own family recipe in the comment area so I am re-printing it here. It is yet another recipe for Czech Christmas cookies but once you read it you will know that it  is the unconventional method. The 'boring' method can be found here (you pretty much make a regular dough shaped in hedgehog shape, put melted chocolate on top and sprinkle it with coconut). Alenka's dad was a little more inventive and untraditional:
CZ: Alencin netradicni recept na tradicni Jezky!!!!

Jezky Cookies
'My dad made these every christmas. Use a clothing hanger with the slots on each end as a scale. Hook onto a cabinet knob. Use a plastic grocery bag for each ingredient. There are just 3 ingredients: eggs, hazelnuts, powdered sugar. You will use an equal weight of each. Start by shelling a batch of hazelnuts. Put these in a plastic bag at one end of the hanger. At the other end of the hanger, add powdered sugar to a bag until the hanger is level, then remove this bag from hanger. With hazelnuts still on one end of the hanger,put an empty bag on the other end and add whole eggs carefully until hanger is again level. You will use only the egg yolks after you have weighed them. Grind hazelnuts fine, add yolks and powdered sugar and mix together. This makes a very stiff dough. It will burn up a wimpy cookie press. My dad used one of those aluminum tube presses with the metal extrusion plates (a large star shape). He would press out strips 8-10 inches long and wind into spirals or spiral S shapes
Place on cookie sheet ,allow about 3/4 inch between cookies. Bake in 350 degree oven until set and just barely beginning to brown. Store in layers on waxed paper. Better after a couple of days.
Sprinkle cooled cookies with sifted powdered sugar.'
If you liked this post buy me a coffee! (Suggested:$3 a latte $8 for a pound) Thanks!