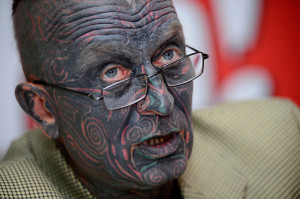 These days have been quite eventful for the Czech Republic. Not only did  - now the former president – Vaclav Klaus declare  unexpected (and quite unwelcomed) amnesty during his last New Year's speech but the citizens are in the process of electing a new Czech president.
It is not just an ordinary elections, however. For the last twenty years the presidents were chosen by the country's parliament but this year the citizens will be voting directly.
There are 9 presidential candidates and cover a broad spectrum of political ideas as well as appearances. Perhaps the most radical of all is Vladimir Franz, a university teacher, a painter and a composer, who is covered with blue tattoos literarily from head to toe (see image above). I mean, I am speechless; only in the Czech Republic, right? [click to continue…]
If you liked this post buy me a coffee! (Suggested:$3 a latte $8 for a pound) Thanks!
{ 11 comments }