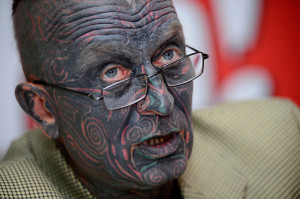 These days have been quite eventful for the Czech Republic. Not only did  – now the former president – Vaclav Klaus declare  unexpected (and quite unwelcomed) amnesty during his last New Year's speech but the citizens are in the process of electing a new Czech president.
It is not just an ordinary elections, however. For the last twenty years the presidents were chosen by the country's parliament but this year the citizens will be voting directly.
There are 9 presidential candidates and cover a broad spectrum of political ideas as well as appearances. Perhaps the most radical of all is Vladimir Franz, a university teacher, a painter and a composer, who is covered with blue tattoos literarily from head to toe (see image above). I mean, I am speechless; only in the Czech Republic, right?
The favorites in this presidential run are 2 former Czech prime ministers, Milos Zeman and Jan Fisher, whose father survived Auschwitz.
The elections started today at 2pm . Even us, Czechs living abroad, are able to vote at our local embassies but I personally chose not to vote since I don't feel like I am knowledgeable enough to participate. Perhaps next time. Although if Mr. Blueman wins I will never be able to forgive myself ;).

CZ: Cesi prochazeji opravdu velmi dobrodruznym obdobim. Nejdriv Vaclav Klaus ve svem poslednim novorocnim proslovu neocekavane oznamil amnestii a dnes ve 14 hodin zacali poprve v ceske historii volit sveho noveho prezidenta sami obcane!
Vyber kandidatu zabira opravdu pestrou paletu jak nazoru, tak vzhledu. A samozrejme ze vite, kam tim mirim……Vladimir Franz…co to je????? Opravdu jen v Ceske Republice se muze neco takoveho stat.
Source:
http://www.voanews.com/content/czechs-vote-in-first-direct-presidential-election/1582056.html
http://www.novinky.cz/domaci/289980-on-line-reportaz-o-volbu-prezidenta-je-obrovsky-zajem.html
If you liked this post buy me a coffee! (Suggested:$3 a latte $8 for a pound) Thanks!