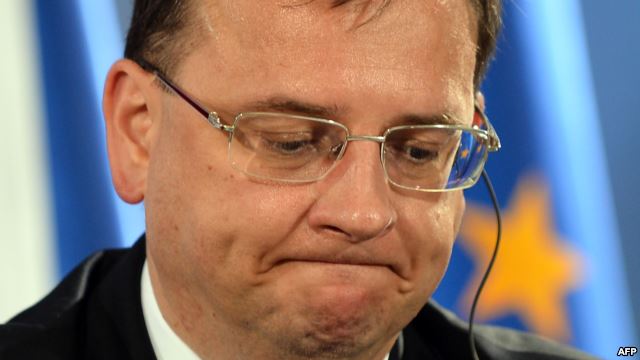 If you are following the Czech news even a little bit you know yet another corruption affair has taken its place. A couple of days ago the Czech police arrested 10 members of the Czech government (in the middle of the night!!!) and now the prime minister Necas resigned, admitting having his fingers in the corruption scandal as well.
Under the Czech Constitution, the prime minister's resignation means the fall of the entire government, after which it is up to the president to name a new prime minister designate. All eyes are now on president Zeman who is he going to pick.
Remember Wikileaks? They told us about a US embassy personnel who put together an unclassified cable under the title
"CZECH CORRUPTION: BAD, AND UNLIKELY TO GET BETTER SOON"
signed off on by then US Ambassador to the Czech Republic. Here is a little taste of the article: "While there had been a reduction in petty corruption — such as the perceived need to bribe office clerks in government offices or town halls to expedite paperwork, or to traffic police to get off fines — in part thanks to the introduction of new technology, "malfeasance by high-level officials, particularly with large public procurements" remained problematic."
Well, here we are, almost a year later, and the title has proven to be unfortunately correct.

CZ: Jestlize sledujete ceskou politiku alespon trosicku, tak vam asi neunikl dalsi skandal. Tentokrat ceska policie uprostred noci zatkla 10 clenu ceske vlady a nezadlouho pote rezignoval take vinny premier Petr Necas. Je ted na Zemanovi, aby si vybral noveho premiera, doufejme ze tentokrat nekoho verohodnejsiho. Ale je vubec nekoho takoveho mozno najit?
Wikilieaks pred rokem zverejnili clanek napsany zamestnancem americke ambasady (a podepsany samotnym ambasadorem) zvany "Ceska korupce: ve spatnem stavu a bude hur". Zatim se autorova predpoved bohuzel naplnila.
If you liked this post buy me a coffee! (Suggested:$3 a latte $8 for a pound) Thanks!