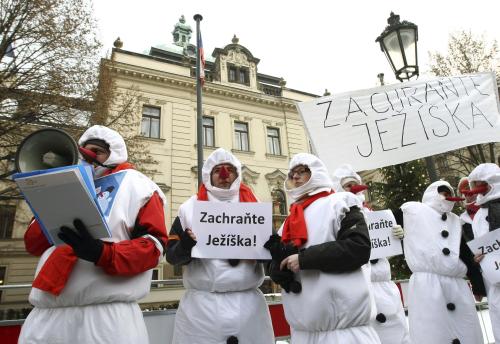 "Save little Jesus!" , the signs declare. A bunch of demonstrators, dressed up as snowmen, were expressing their opinion toward the increasing intrusion of the big-bellied Santa and his reindeer – the all-American images of Christmas. Slogans such as "We survived Grandpa Frost (=Deda Mraz; the former USSR image of Christmas), we are going to survive Santa Claus!" or "The end of big-eyed reindeer in Czech!" made me think of couple of ironies however:
Irony 1: The Czechs are fighting off Santa Claus as an American spirit of Christmas, meanwhile the image of Santa  in America is becoming politically incorrect. Both of them are connected with the word 'Christmas' which has become a forbidden and offensive 'C' word within the last few years. So while the Czech Republic is trying to save the their image of Christmas, the Americans are fighting to save Christmas itself.
Irony 2: Most Czech are devoted atheists and they are fighting to keep Jesus in their lives? I understand that it is a tradition but it is still pretty funny if you think about it.
If you would like to sign the 'Save little Jesus' petition like I did, click here.

CZ: "Zachrante Jeziska!", "Prezili jsme Dedu Mraze, prezijeme Santu Clause"; "Konec vykulenym sobum v Cechach!" – to jsou slogany, ktere se objevily na nedavne demostraci protestujici proti americkym vanocnim symbolum. Demonstrujici zvolili kostym snehulaku proto, ze pry ztelesnuji atmosferu ceske zimy. Po precteni clanku jsem se ale zamyslele nad jakousi ironii:
1. Cesi se ze svych zivotu snazi vystrnadit Santu a Rudolfa, mezitim tyto symboly se z  dnesni politicky korektni (nevzpominam si na ten vyraz v cestine) Ameriky pomalu ale jiste vytracuji. Proc? Jsou totiz spojene s vyrazem "Vanoc" a jelikoz toto slovo se do anglictiny prelozi jako "CHRISTmas" mame tu problem. "Christmas" pochazi od slova "Christ", tedy krestanska postava a v dnesni multikulturni spolecnosti byste timto slovem vlastne mohli nekoho urazit (tato tzv. "Christmas-o-fobia" mi opravdu prijde trosicku ujeta). Takze zatimco Cesi se  snazi uchovat tradicni postavy ceskych Vanoc, Americane se snazi samotne Vanoce zachranit.
2. Vetsina Cechu jsou zaryti ateiste a to, ze nehty a zuby bojuji za Jeziska (coz je stale ten samy Jezis z krestanskeho nabozenstvi) je opravdu k pousmani.
Jestlize mate zajem podepsat petici "Zachrante Jeziska" ( ja uz jsem ji take podepsala), klepnete sem.
Source:
http://magazin.ceskenoviny.cz/spolecnost/zpravy/snehulaci-brojili-v-budove-vlady-za-zachranu-symbolu-vanoc/412758
http://zachrantejeziska.cz/petice-ok.php
If you liked this post buy me a coffee! (Suggested:$3 a latte $8 for a pound) Thanks!