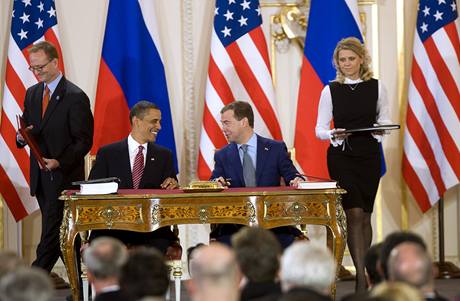 Today was a big day for the Czech Republic. Prague was chosen to be the place where the US president Barack Obama and  the Russian president Dmitry Medvedev signed the so-called New START treaty. The treaty is supposed to reduce the 2 countries' nuclear weapons by about 30% more than the previous deal.
The signing of the treaty was held in the historic Spanish Hall at the Prague Castle, only one year after Obama had his important speech on nuclear disarmament in Prague.
While the relationship between the US and former Russia seems to be improving some critics say the treaty itself is kind of impractical since the biggest nuclear threats are currently Iran and Northern Korea (not Russia).

Some fun facts about Obama's visit to Prague:
Obama decided to work out in Hilton's gym with all of the other regular hotel guests. He had a 40 minute aerobic work out and then he had a cigarette (just kidding…although smokes from time to time).
Since Medvedev is much shorter than Obama, his chair was made higher so that they looked equal in height when signing the treaty.
Here is Obama's speach in Prague if anyone is interested:
CZ: Praha se dnes stala centrem udalosti. Je totiz vybranym mestem, kde presidenti Barack Obama a Dimitrij Medvedev podepsali novou odzbrojovaci smlouvu, ktera by mela snizit mnozstvi nuklearnich zbrani o 30% vice, nez co slibovala smlouva minula.
Zatimco president Vaclav Klaus smlouve velmi fandi, podle deniku Wall Street Journal je to dohoda neprakticka, jelikous nejvetsi hrozbou nynejsiho sveta neni americko-rusky jaderny konflikt, ale staty jako jsou Iran nebo Severni Korea.
Zde je proslov americkeho prezidenta pote, co ve Vladislavskem sale podepsal smlouvu Medvedevem:


Source:
http://www.lidovky.cz/klaus-je-to-vetsi-smlouva-nez-jsme-si-mysleli-fac-/ln_domov.asp?c=A100408_154148_ln_domov_tai
http://www.radio.cz/en/article/126748
http://www.ceskenoviny.cz/zpravy/obamy-se-statniky-evropy-jednal-o-afghanistanu-a-rusku/460560
If you liked this post buy me a coffee! (Suggested:$3 a latte $8 for a pound) Thanks!