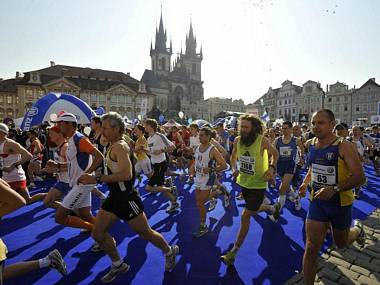 PS: This article was written before the Boston  marathon bombing happened. My prayers go to all of the people involved in it

.
Radio Praha did a very nice article on the history of the Prague marathon. I do NOT run marathons myself (I think such tortures belong to places like hell

) but my doctor keeps talking about it so I figured I may as well get educated in this arena.
The person behind this whole thing is an Italian businessman Carlo Capalbo who has been living in Prague for over 20 years. His friend, an Olympic gold medalist and a winner of the Boston and New York marathons, came to visit him in Prague and gave him the idea to start a marathon here. Carlo explains: "In order to do a marathon you need a background, and Prague is a fantastic background. You should have a sporting tradition, and this country has a great legacy from Emil Zatopek…I called Mr. Zatopek and together we went to see the mayor. Or course, the people ad the administration were completely shocked, because they did not know what a marathon was. For them, a marathon was 100 people sweating and running through the fields." [click to continue…]
If you liked this post buy me a coffee! (Suggested:$3 a latte $8 for a pound) Thanks!
{ 0 comments }