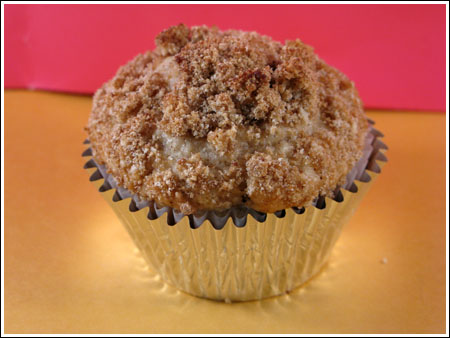 If the Czech traditional kitchen had muffins in its repertoire, what would they look like? Well, it has to have raisins, walnuts, cinnamon, vanilla and apples….that's kind of like the all-famous Apple Strudel! Nothing really new under the sun but if you put it in a muffin form it adds a bit of novelty to it. I also spiced it up by using molasses instead of sugar to create a bit richer taste.
So what do you think? Is it going to make it among other Czech 'buchtas'?
CZ: Kdyby ceska kuchyne mela ve svem repertoaru muffiny (nebo spis mafiiiiny), jake by asi bylo jeho slozeni? Mno, tak by tam musely byt samozrejme rozinky, vlaske orechy, vanilka, troska skorice a take jablicka…tedy takovy jablkovy zavin v mufinove podobe. Tedy je to neco trosku jineho, jeste kdyz ho navic posypete drobenkou. Ja jsem k tomu jeste pouzila molasses (melasa syrup??) misto cukru, aby to melo trosku netradicni a trosku obsahlejsi chut.
Tak co myslite, prezil by cesky mafiiiin mezi ostatnimi ceskymi buchtami??>
Ingredients
1 1/2 cup all-purpose flour
3/4 cup  of granulated sugar (or molasses for a richer taste)
2 tsp of baking powder
1 egg
1/2 cup of milk
1/3 cup of melted butter
1 tsp of vanilla
1/2 tsp of cinnamon
1 cup of apples, cut into a very small pieces (about 1 whole medium apple)
1/2 cup of raisins
1/2 cup of chopped walnuts
Streusel Topping
1/4 cup of sugar
1-2 Tbs of all-purpose flour
1 Tbs of softened butter
Method:
1. Ina large bowl whisk together flour, sugar, cinnamon and baking powder
2. Make a hole in the middle of your flour mixture and add inside the egg, milk, vanilla and butter. Stir into flour mixture until blended. Gently stir in cut up apples, raisins and walnuts
3. Fill each cupcake liner with about 1 1/2 Tbs of batter.
4. To make the Streusel topping: In a small bowl combine sugar, flour and butter (use your fingers)
5. Sprinkle each muffin with about 1 tsp of topping
6. Bake them at 375F for about 15 to 20 minutes or until done.
Enjoy!
If you liked this post buy me a coffee! (Suggested:$3 a latte $8 for a pound) Thanks!