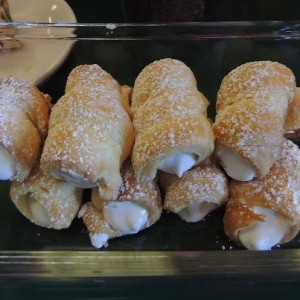 I usually try to find a bit of historical backrgound on my featured recipes but I was unsuccessful when it comes to kremrole. Is it an authentic CS dessert or did it come to us from France or some other fancy country?
There are many ways to make kremrole. There is the SUPER easy way, where you just buy a flaky pastry in your local grocery store (Pepperidge Farms brand is the best), defrost it, make tubes out of them, bake them, fill them with whipped cream and then sprinkle some powdered sugar on them.
Then there is the semi-hard way where you make either the pastry or the filling  yourself. And then there is the SUPER hard way where you do everything from scratch yourself.
If you want to be a 'martyr' and do everything yourself, I found a pretty good recipe in English here (beware there is a few typos).
Jana is the author of the Slovak recipe (and of the picture) below. These kremrole look fabulous!!! Thank you Jana and Monika!!
Now it's up to you to pick which way are you going to roll :).

Ingredience
1 kg muky
4 balicky 200 g masla/margarinu
2 KL soli
2 vajcia
2 PL octu
chladna voda
Postup
1.Do muky nastruhame na slzickovom struhadle zmrazene maslo.
Maslo aj struhadlo obsypeme mukou a nastruhane maslo priebezne tiez posypavame mukou. Takto sa nam struha lepsie a netopi sa nam ani v ruke, ani nechyta na struhadlo a a v muke si zachovava tiez tvar struhanych slziciek.
2.Do nadoby/odmerky dame vajcia, sol, ocot rozhabarkujeme a dolejeme chladnou vodou do 500 ml.
3.Pripravene tekute ingrediencie postupne zamiesavame zlahka rychlo do masloveho cesta.
Zamiesavala som velkou lyzicou a potom len rychlo! zmiesila dokopy rukou do jednoliateho cesta.
Cesto rozdelit na dve casti alebo styri, zabalit a dat oddychnut do chladnicky na dve hodiny.
4.V original recepte sa nezmienovali o skladani. Ja som ale odrezala asi 125 g cesta, vyvalkala asi na 1 cm a prelozila ako klasicke listkove cesto. Hned vyvalkala na plat a na rychlo natocila na trubicky a sup s nim do pece.
Musim podoknut ze sa s nim pracuje skvelo, staci len zlahka podsypat mukou. Ako je vidno z obrazku (dufam teda) krasne sa listkuje a o to viac chuti. Nezada si s nim ani kupovane a verte mi ze ani klasicke domace. Je fantasticke!
Prajem vsetkym aby sa im darilo a chutilo tak ako nam.
PS:
Napln (recpty.cz):
šleháme bílky se štipcem soli a přidáváme pískový cukr.
Po mírném prošlehání vložíme nádobu se sněhem do parní lázně.
Pokračujeme ve šlehání, během něhož přidáme moučkový cukr, až docílíme tuhé, lesklé bílé hmoty, kterou po zchladnutí naplníme do trubiček.
If you liked this post buy me a coffee! (Suggested:$3 a latte $8 for a pound) Thanks!