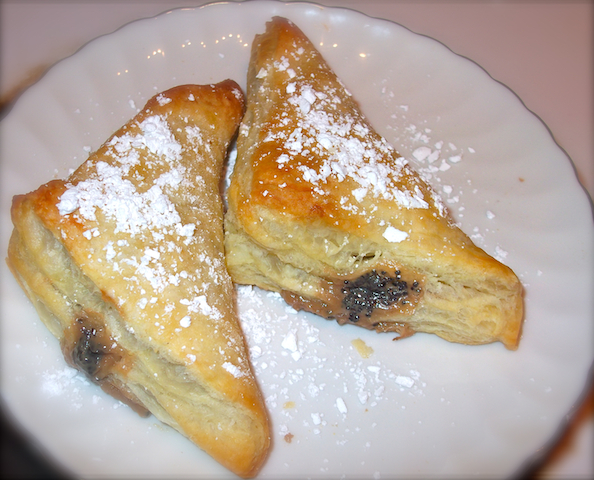 Having two kids makes me feel like I have a hundred of them: so much to do and so little time! Which brings me to this recipe. Many times I find myself craving poppy-seed kolache but there are none. Certainly not in the store and I don't have a whole day to bake them myself.  But I think I found a workable solution to fill my cravings! I buy  puff pastry sheets (Pepperidge Farms brand) in the store, make little pockets out of them and fill them with poppy-seed filling which is very easy to make. That way I have an imitation of traditional Czech kolache (which ends up looking like a poppy-seed turnover) in no time! Well, more like in 2o minutes….
If you are like me, running out of time, try it! You won't be disappointed.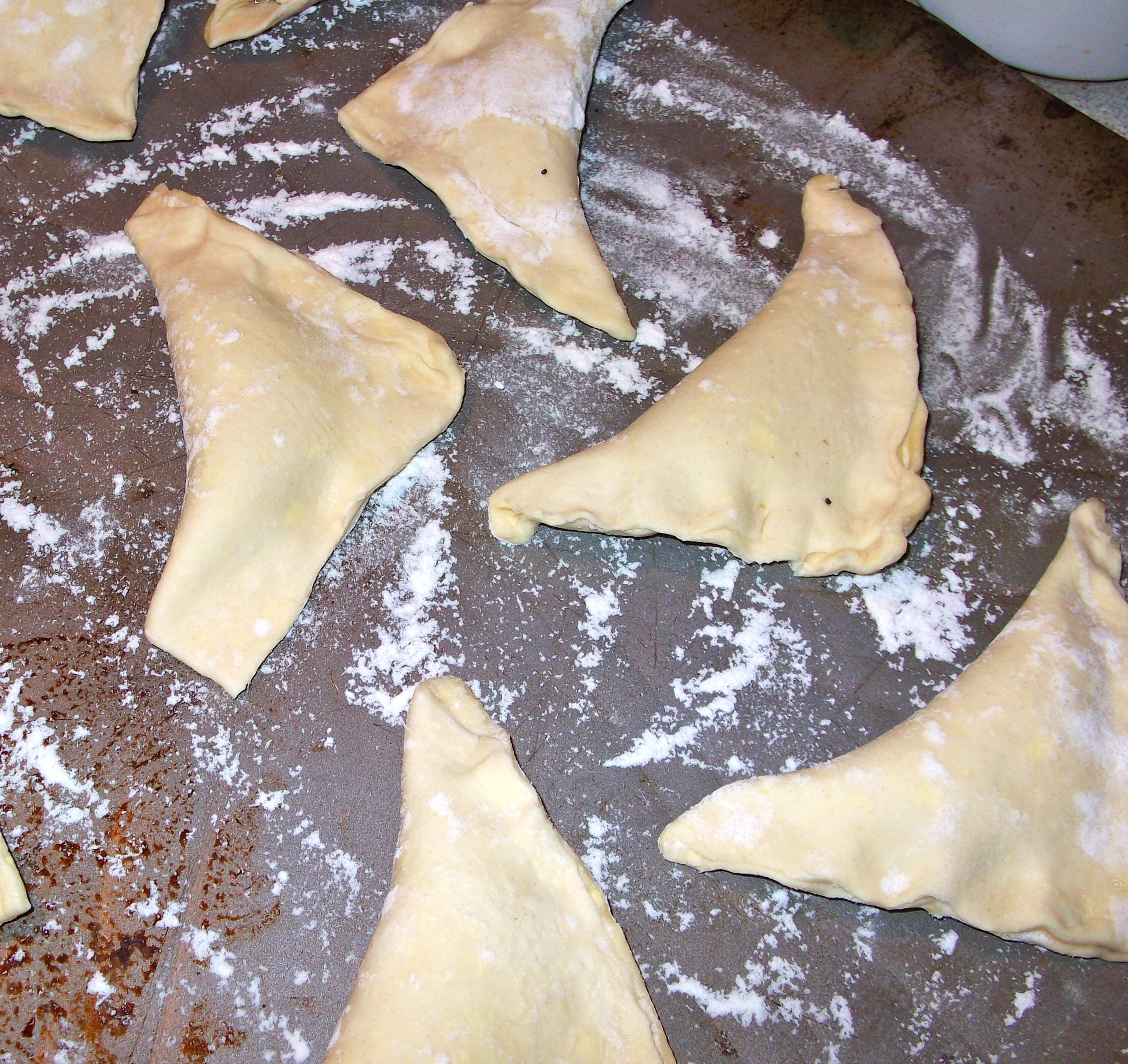 CZ: Jestlize mate problem najit si na cokoliv volny cas, tak v tom nejste sami. Se dvema detmi si clovek prijde, jako by jich mel 100. Na nic neni cas! Proto jsem vymyslela, jak si udelat jednoduche makove 'kolace' – nebo spis satecky. Recept je hrozne jednoduchy a mate je hotove na stole za ani ne 20 minut.
POPPY-SEED TURNOVERS

(easy  imitation of kolache)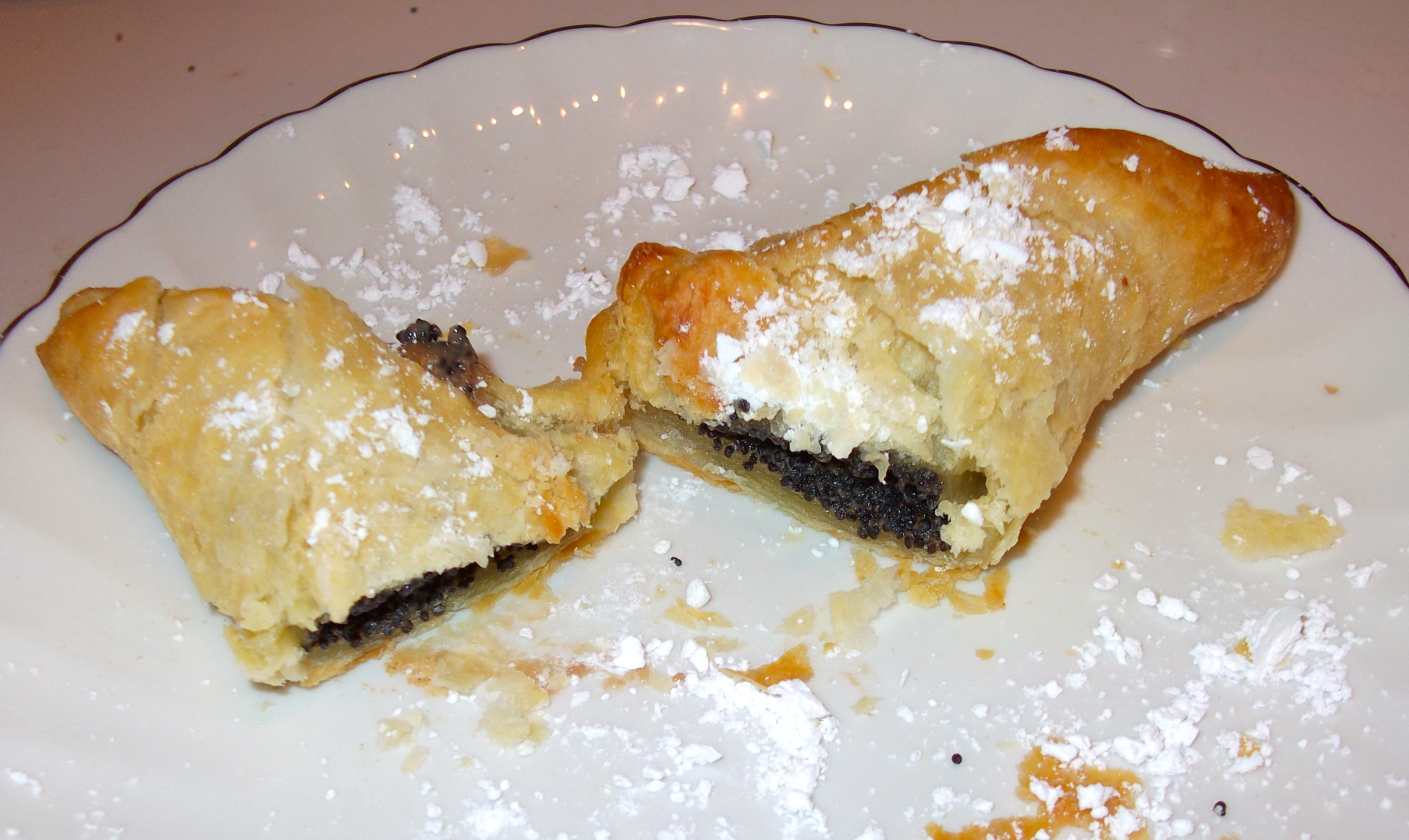 Ingredients:
puff pastry sheets (Pepperidge Farms brand)
Poppyseed Filling (see recipe below)
Method:
Preheat the oven for 350 degrees F
Defrost one puff pastry sheet according to the directions on the package
Lay it on a floured surface and cut it into 9 identical squares
In the middle of each square put 1 Tbs of poppy-seed filling, fold it over and

tightly

seal the edges with your fingertips so that you have triangle-shaped pockets (see the enclosed photo)
Put them on a floured baking sheet and bake them for about 10 minutes or until the top is golden brown

If you want them to look shiny, base the top of each triangle with an egg mixture (1 beaten egg with a little bit of water).
Done!
PS: You can also sprinkle them with some powdered sugar
Poppy Seed Filling:
1  cup of milk
1/2 a cup of ground poppy seed
1/2 tablespoon flour
1 teaspoon vanilla
1/2 cups sugar
1 Tbs of butter
PS: some people also ad a pinch of cinnamon and/or cocoa powder. Some ad a bit or rum and raisins to it. Feel free to experiment!
Heat milk in a small pot and when it boils add sugar, flour and poppy seed, stirring vigorously. Cook over medium heat until mixture thickens. Remove from heat. Add butter or margarine and then add vanilla. Cool filling before adding onto the dough.
If you liked this post buy me a coffee! (Suggested:$3 a latte $8 for a pound) Thanks!