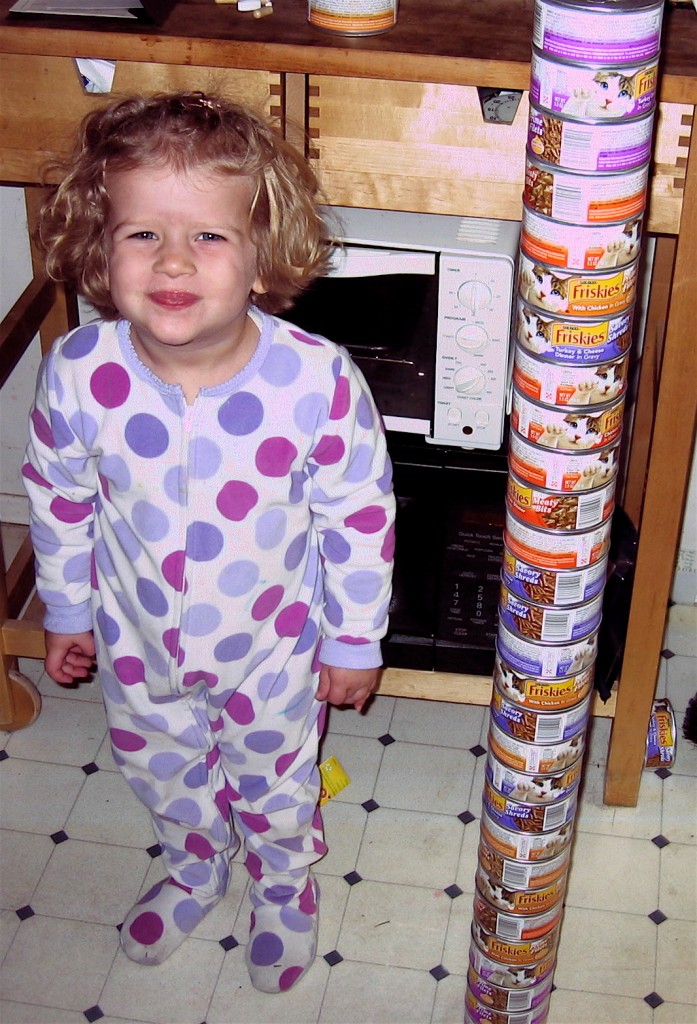 Every 6 months or so I write a small report on how is my daughter doing with her bilingual skills. She is two and half now which means it is time for me to tell you about her progress:
PS: For part 1 click here, part 2 click here and part 3 click here
I don't know how else to start than by saying that it's been going really great. Although I do not use the strange O.P.O.L. (One Parent One Language) method with her, my daughter has no problem understanding and also speaking Czech. She actually says whole sentences like a real human now! I will give you an example: we are in the grocery store and Hanicka points at some lady and says: "Pani ma velke brisko" (Lady has a big belly) or she points at some poor lady with graying hair and exclaims "To je babika!" (That's grandma!). From practical reasons you can see that it is VERY advantageous she speaks Czech with me in public otherwise we would be in a big trouble. Instead, the big bellied lady and the other woman with graying hair are just pleasantly smiling at me, probably admiring how culturally diverse my family is.
When we are at a playground with other American kids she has no problem switching to English once she realizes that we are socializing with the English-speaking fellows. If I switch into English, she gets the hint really quickly and goes on speaking English as well. My husband marvels on how well she switches to English when he is around. Once in a while she starts talking to him in Czech but in a couple of seconds she switches back. Now, get this: when I tell Hahna in Czech "Jdi rict tatovi, ze je hotova vecere" (Go tell daddy that dinner is ready), she walks up to her dad and says "Daddy, dinner is ready". She instantly translates it in her head without me telling her anything! I was pretty excited about that one.

Other than that we just love to hang and chit chat in the Czech language. I do talk to her and read to her a LOT. I also repeat her imperfect sentences (which is of course normal for a 2-year old) in  a correct way. When we Skype with my parents and Hahna communicates with them in their native tongue with no problem, they do get suspicious however, asking me if she knows how to speak English as well. I keep telling them that she is as proficient in English  as she is in Czech but I still think they don't believe me.
CZ: Uplynulo jiz pres 6 mesicu od te doby, co jsem vas informovala o Haniccinych rozvijejicich se dvojjazycnych schopnostech. Meli byste ted videt, jak se spokojene usmivam. Jinak to nejde, protoze jeji cestina ( a take anglictina) jen rozkveta a to i bez pomoci dnes velmi trendiho pedagogickeho postupu zvaneho O.P.O.L (One parent one language). Pouziva jiz cele vety a zni tedy jako 'opravdovy clovek' a ne jako batole. Jeji oblibena vec, je ukazovat na tezsi osoby a nahlas komentovat jake maji velka briska nebo velke zadecky. Kazda postarsi pani je pro ni 'babicka' a take ji nahlas babickou nazyva. Zkratka a dobre, diky Bohu ze nam nikdo nerozumi!!!!! Jinak by s nama byl utrum. Misto toho se ona postarsi pani nebo onen brichaty pan okouzlene kouka, jaka jsme osvicena bilingvni rodina…kdyby jenom tusili pravdu.
Jakmile se ocitneme v situaci, kde osoby mluvi anglicky (jako je treba detske hriste), automaticky prepne do anglictiny. Pravda, nekdy ji to hned nedojde a tak zakroci maminka (ja) – zacnu na deti mluvit anglicky a za chvilku zacne sprechtit i Hanicka. Nejvic si nad timto prepinani libuje muj manzel – porad jeste nemuze uverit, ze to funguje! Predstavte si, ze i kdyz reknu Hanicce v cestine "Rekni tatovi, ze vecere uz je hotova", ona za nim jde a bez meskani mu rekne "Dady, dinner is ready." . To je, co?
Jinak se nam obema moc libi, kdyz si spolu jen tak v cestine klabosime. A klabosime teda hodne. Snazim se ji nenapadne opravit, kdyz dela chyby – opakuji jeji vety, ale ve spravne gramaticke forme. Hanicka exceluje i  kdyz se bavi s ceskou babickou a dedou pres Skype; exceluje dokonce tak, ze mi rodice neveri, ze umi mluvit take anglicky. Podezrele se me vyptavaji a at rikam co rikam, myslim si, ze mi stejne neveri.
PS: For part 1 click here, part 2 click here and part 3 click here
If you liked this post buy me a coffee! (Suggested:$3 a latte $8 for a pound) Thanks!