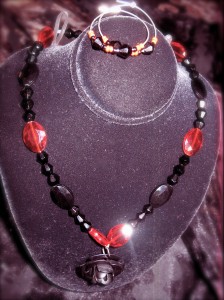 The New Valentine addition to my Czech crystal jewelry collection is finished. Every bead simply vibrates with love and devotion!  Take a look and if you like what you see don't hesitate to contact me – remember Czechmate Diary email subscribers get a 10% discount!
CZ: Prave jsem dokoncila tzv. Valentynskou kolekci sperku, kde kazdy kristalovy koralek primo vibruje nesmironou laskou a oddanosti. Jestlize vam neco padne do oka, nevahejte a zkontaktujte me – nezapomente, ze ti z vas, co jsou zaregistrovani na Czechmate Diary pres email dostanou 10% slevu!


"Vintage heart"
"True love"
If you liked this post buy me a coffee! (Suggested:$3 a latte $8 for a pound) Thanks!