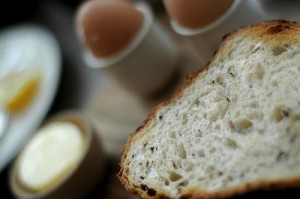 I know I have posted a bread recipe in the past but – thanks to my awesome high school friend Eva – I have an easier version for you.  You don't have to wait days and days until your dough ferments anymore, you just simply ad a package of yeast. Remember, bread-making is an artistry so don't worry if your first one does not look like a magazine-cover snap shot!
PS: Also, if you have a baking stone, use that, but if you don't just use a baking tray.
CZ: Sice jsem jiz v minulosti recept na cesky chleba publikovala, ale ted mam pro vas verzi mnohem jednodussi; nemusite kvasit svoje vlastni testo, proste tam hodite pytlicek s drozdim! Recept pochazi od me stredoskolske kamaradky Evy, ktera si ho velmi pochvaluje (a ja samozrejme take). A nevzdavejte to, kdyz se vam ten bochnik parkrat nepovede – to vite, peceni chleba, to je veda!!
PS: Jestli mate kameny pekac tak pecte chleba na nem, jestli ne, tak pouzijte tormalni pekac.


Ingredients:
5 cups of flour: bread flour works the best (rye or whole wheat flours are harder to deal with)

about 2 cups of flour to add to the dough (and onto your hands) while kneading the dough (step 3)

2.5 cups of tepid water
1 Tbs of caraway seeds
2 Tsp of salt
1/2 Tsp of sugar
1 package of quick-rising yeast
METHOD: 1. Mixing the dough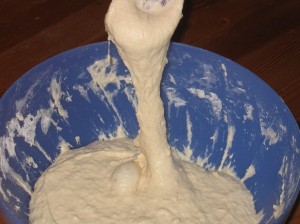 In a large mixing bowl mix together half a cup of warm water, sugar and yeast. Wait about 15 minutes until the yeast rise.
Mix in 1 cup of flour and stir well using a wooden spatula.
Ad in the rest of the water (with the 2 Tsp of salt mixed in it) and the rest of the flour. Stir it vigorously until a sticky, thick dough forms – about 5 minutes. Remember, the longer you stir it, the more oxygen you let into the dough and more gluten forms, which means you will have a better bread!
Stir in  caraway seeds
Scrape down the sides of the bowl and let it stand in a warm place for about 2 hours, covered with a dish cloth.
2. Kneading the dough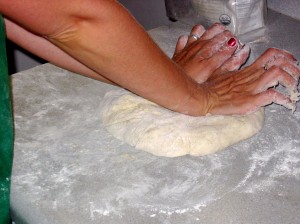 Dust a clean counter with flour
Scrape the dough out of the bowl and knead it with smooth, steady strokes for about 8 minutes (keep adding a little bit of flour in-between strokes every time it starts to get sticky)
Keep your hands floured but resist adding a lot of flour (PS: rye flour gets really sticky)
Lightly cover the dough with plastic wrap and let it rest for 10 minutes
Remove the plastic and knead again until the dough is smooth and elastic (5 – 7 minutes more)
PS: You can also mix the dough in a bread machine, on medium-low speed for 7 minutes.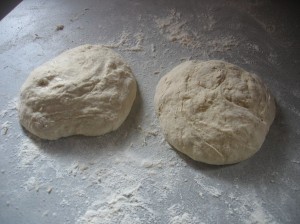 3. Devide and shape the loaves
Cover a rimless baking sheet with parchment paper and set aside
Cut the dough into 2 equal pieces with a chef's knife
Shape each piece into a round
Dust the parchment paper lightly with flour and place the loaves on the paper about 3 inches apart, smooth side up.
Sift some more flour over the loaves, as if you were dusting them with confectioner's sugar
Cover them lightly with plastic wrap and leave them at RT until they have inflated and bubbles are visible just bellow the surface (about 1 to 1 and 1/2 hours); when you press a fingertip into the dough it will spring back slowly.
(OPTIONAL: About 1 hour before baking, place a baking stone on the middle rack of the oven) Place a cast-iron skillet on the lower rack. Heat the oven to 425 degrees.
(Slide the loaves, still on the parchment, onto the baking stone) Place loaves together with the baking tray and a parchment paper into the heated oven. Place 3/4 cup of ice cubes in the skillet to produce steam (the hard bread crust creates that way).
Bake until the loaves are ruddy brown, 30 to 40 minutes
Slide the loaves, still on the parchment paper, onto a wire rack so that cooler air can circulate around them.
Cool for about 5 minutes and peel off the parchment paper
Cool them completely on the wire rack for about 1 hour before slicing
If you liked this post buy me a coffee! (Suggested:$3 a latte $8 for a pound) Thanks!