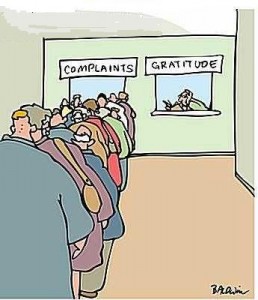 The Canadian broadcast CBC NEWS published the results from a recent poll where Czechs were rated as the  4th biggest complainers in the world when they spoke up about the quality of public services. The poll included questionnaire answers from 23,000 corespondents from 23 various countries. When it comes to our country, every 2nd Czech was unsatisfied with various public services in the Czech Republic, which made them out to be complainers no. 1  in the whole Europe! Even the Hungarians, the Polish and the Russians (!!) are complaining less! So what is the deal? Do Czechs have the right to feel unsatisfied or do they just like to complain?
Well, as far as beer services go, there is some validity there. You see, every forth Czech restaurant is serving a lesser quantity of beer than what they are supposed to (where restaurants in Ostrava and Brno are supposedly the biggest cheaters of all). The refunds are also quite bad since almost half of the respondents claim that most of them seem shady, plus one usually has to get into a fight with the  clerk in order to get somewhere (or not). The state agricultural inspection also has a bad news as far as the quality of Czech food goes. 5,879 samples (out of how many??)  of various fruit, vegetables, milk products, chocolate, meat and others did not meet the appropriate food safety guidelines.

And finally, one more revealing fact about the Czechs: they are one of the most timid people when it comes to complaining about a bad product! 13% of participants admitted that although they know they should complain about some faulty thing they have bought, they will not do it. So, what's the deal? Do we just complain without doing anything about anything or are the reclamation services so bad that it's not even worth trying  and we have the right to give up and be grumpy?
The final question is, who is the biggest 'complainer' in the world? You may be surprised if I tell you that it is the Brazilians! 2/3 of them are not satisfied with their public services when asked…
Kandadsky server CBC NEWS pred par dny zverejnil vysledky z pruzkumu 23 tisic respondentu ve 23 zemi. Ptal se na vyhrady obcanu k sluzbam, se kterymi se setkavaji v kazdodennim zivote. Na nizkou kvalitu si stezoval skoro kazdy druhy Cech a svym morousovstvim to tak 'vyhraly' v cele Evrope. I totiz v Polsku , Madarsku a dokonce i Rusku bylo mene stezovani. Tak maji si Cesi na co stezovat nebo to jenom 'hraji'?
CZ: Co se tyce pivnich sluzeb, na fnukani pravo maji, protoze se zjistilo, ze kazda 4. restaurace vam serviruje tzv. "podmiraka", tedy mene piva nez jste si zaplatili (Ostrava a Brno jsou v tom nejhorsi). Reklamacni sluzby pry take nejsou k zulibani, skoro v polovine pripadu se ukazaly nejiste a navic se pry musi dostat do hadky s obsluhou. Kvalita jidla podle Statni zemedelske potravinarske inspekce stoji taky za kocku, zjistili totiz, ze 5879 vzkorku potravin (z kolika??) – jako je ovoce, zelenina, vino,maso, cokolady, vlecne vyrobky a ochucovadla – nevyhovuji predpisum. Pruzkum ale take ukazal, ze Cesi jsou obrovci ostychavci a to hlavne co se tyce nepodanych stiznosti. 13% Cechu prizalo, ze miva pocit, ze by melo neco reklamovat, ale nikdy to neudela.
Kdo ale vyhral toho nejvetsiho morouse sveta? Budete se divit, ale jsou to Brazilci se 2/3 nespokojencu. Ted se ovsem nevi, jestli sluzby v Brazili jsou opravdu tak strasne nebo jestli si lidi jen radi zastezuji.
Souce: http://www.novinky.cz/domaci/175820-cesi-patri-mezi-nejvetsi-stezovatele-na-svete.html
If you liked this post buy me a coffee! (Suggested:$3 a latte $8 for a pound) Thanks!