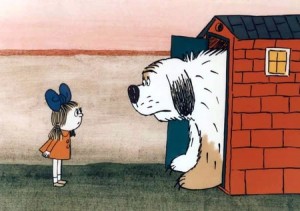 I have put together a list of YouTube videos of my favorite (and now also my daughter's favorite) Czech fairy tales – well, most of them are Czech – and I hope it will put a smile on you face when you reminisce about the old times (notice that this is only the first part, two more posts like this are coming soon!). And you know what are other bonus? It will teach your kids Czech and it will also keep them quiet for a few minutes ;0)
PS: For those who do not understand Czech I apologize – all of these are in Czech only. But don't worry, the next posts will have some silent videos too!
CZ:  Dala jsem dohromady list svych nejoblibenejsich vecernicku/pohadek meho detsvti, tak doufam, ze vas potesi. Nejen ze si muzete zavzpominat, ale take je to velmi poucne pro vase ditka z hlediska ceskeho jazyka (a zaroven je to taky na par minut utisi ;0). Je to pouze prvni seznam, dva dalsi takove seznamy zverejnim v blizke budoucnosti, tak si drzte klobouky – bude to rychla jizda!!!
1. I used to love that theme song!
2. OK, not so Czech but the Czech voice-over makes it sound so authentically Czech! My daughter's favorite…
3. And who could  forget Strycek Fido?! "Dobrou noc, strycku Fido! Dobrou noc, deti!.."
4. That's a new one to me but Hahna loves it! She keeps copying the dancing…
5. ..no words needed on this one…
6. I don't remember watching this as a kid but that's because it is kind of a boy stuff…trains…
If you liked this post buy me a coffee! (Suggested:$3 a latte $8 for a pound) Thanks!