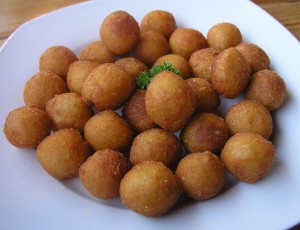 Krokety have always been a fancy kind of way of serving potatoes in the Czech Republic. If you go to the restaurant there you either get french fries or croquettes as a side dish. I have never seen them served here in the US but maybe that's because I don't know their correct name in English? Either way, I found this extra easy recipe for making them at home and can't wait to try them.
CZ: Chybi vam v cizokrajne zemi krokety? Udelejte si je doma sami! Recept vypada velmi jednoduse: 

Ingredients:
1 Tbs of cut up parsley
1/2 cup of bread crumbs (30 g)
3-4 boiled potatoes (500 g)
2 egg yolks
2 Tbs of butter (25 g)
To coat the krokety you need more eggs and breadcrumbs
Method:
Boil potatoes in skin until soft. Let them cool down.
Peal them and mash them up.
Add egg yolks, butter, and bread crumbs and mix well
Add parsley and salt
Make balls out of the dough
Dip the balls in some beat eggs and then roll them in breadcrumbs
Fry finished balls on oil until golden brown
Source: http://recepty.vareni.cz/krupave-domaci-krokety/
If you liked this post buy me a coffee! (Suggested:$3 a latte $8 for a pound) Thanks!