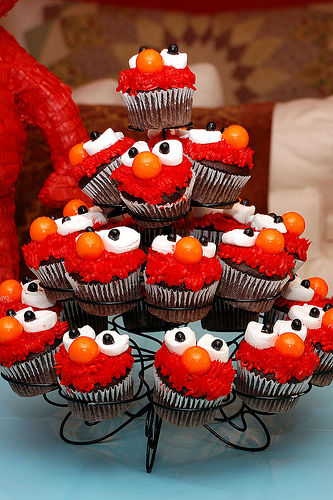 My 3-year-old daughter completely fell in love with Czech Elmo. I mean it is the same American Elmo from Sesame street but with the Czech voice-over. She likes the original, English-speaking Elmo too but for some reason, she thinks the Czech-speaking Elmo is funnier. What's even more interesting is that the Czech Elmo sounds EXACTLY the same as the American one. I am attaching a YouTube video of both so you can judge for yourself.
By they way,if you are interested, the DVD series are called "Svet Elmo" and they are virtually not available anywhere anymore. I don't know why :(. Fortunately one of my Facebook buddies recommended 'ulozto.cz' and I was able to download some of those series. These videos are great to learn the Czech language – for young or old.

CZ: Moje 3-leta dcera naprosto miluje ceskeho Elma. Tedy je to samozrejme ten samy americky Elmo ze Sesami Street, ale je dabovany v cestine. Hanicka se mi dokonce sverila, ze je vtipnejsi nez americky Elmo! Nejlepsi na tom je, ze cesky Elmo zni UPLNE stejne jako americky Elmo. Mozna ze je lehke ho napodobit? Musim to zkusit….treba kdyz budu hodne pilne cvicit, tak budu znit stejne :).
Ceske maminky, doporucuji vam 'Svet Elmo' stahnout na stahnito.cz, kde par dilu je (bohuzel se to neda jiz nikde koupit, teda alespon mne se DVDcka nepovedlo nikde sehnat…)


American Elmo:

Czech Elmo:

If you liked this post buy me a coffee! (Suggested:$3 a latte $8 for a pound) Thanks!