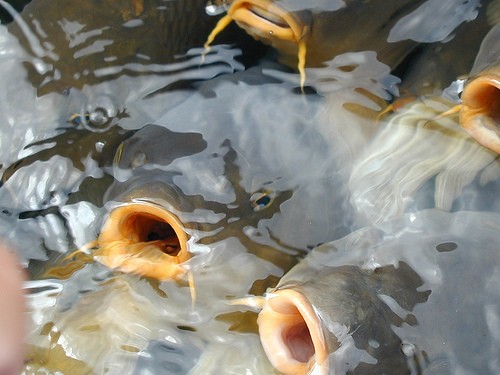 Last night I took a long look at our fat cat. And then I started thinking about how did she become so fat (we give her the same food but then she is getting older…) and that train of thought made me ask myself: "Who eats cats?". Certain nations eat dogs but I had no clue about cats. So I asked my smart husband and he didn't know either. And so we started a long quest that took us days to accomplish….just kidding! We simply googled the term 'who eats cats' and got our answer, which I don't remember anymore, sorry!
What is more relevant to this blog is that when my husband was finished typing the following letters – 'WHO EATS CA…" the first google suggestion that came up was "WHO EATS CARP". That made me laugh pretty hard because that is what I get teased about by him (and other people) when I tell them we eat fried carp for Christmas. My husband teasingly says that in America we use carp as bait to catch real fish.
Oh well, diversity is a beautiful thing and some 'weird' Czech tribe that eats 'weird' things like fried carp is just the proof of it. Am I right or am I right?

CZ: Zrovna vcera jsem se zahledela na nasi tlustou kocku a zacala jsem premyslet, jak vlastne takhle ztloustla. Krmime ji preci tim samym zradlem…ale pravda je, ze uz nejmladsi take neni. No a pak jsem zacala premyslet o tom, jaky narod vlastne kocky ji. Par narodu ji psy, ale kocky? Zeptala jsem se meho chytreho manzilka, ale ten pro mne take zadnou odpoved nemel. Tak jsme spolu zahajili nekolika-denni vyzkumnou expedici…to vite, ze kecam! Nagooglovali jsme si 'who eats cats' a odpoved (kterou uz si samozrejme nepamatuji) jsme dostali behem nekolika sekund. O to ale ted nejde. Co je mnohem relevantnejsi je, ze kdyz manzel napsal do vyhledavajici kolonky googlu nasledujici pismena "WHO EATS CA…", prvni  termin, ktery mu google automaticky navrhnul bylo "WHO EATS CARP". To me opravdu rozesmalo, protoze tuto samou otazku se mne skadlive pta nejen manzel, ale take moji dalsi ne-cesti kamaradi. Manzel vzdycky take podotkne: "V Americe se pouziva kapr jako navnada na opravdove ryby" :0)
Rozmanitost zivota je krasna vec a to, ze nejaky cesky kmen nekde na jinem kontinentu ji obalovaneho kapra na Vanoce je toho prave dukazem. No ne?
If you liked this post buy me a coffee! (Suggested:$3 a latte $8 for a pound) Thanks!