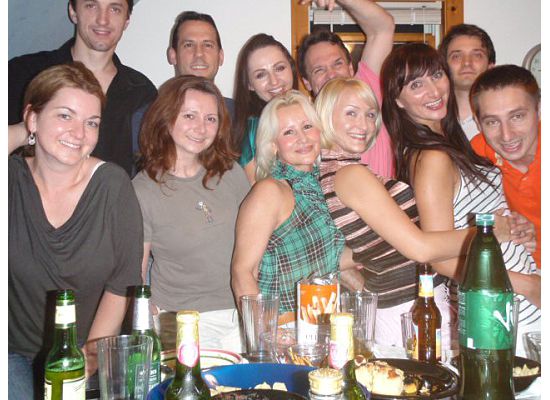 I have done an interview with the following Meetup group a couple of years ago so it is time to re-visit them and see how are they doing. For those who don't know what Meetup.com is,  it is a social network of local groups with shared interest and/or nationalities. Once a group has an organizer, those people actually physically meet and hang out. It is not uncommon, however, for groups to break up because there is a small fee one has to pay  or people get too busy or some other obstacle gets in a way.  But the New York Meetup is still – after so many years – alive and well! It is not surprising that one couple in the group actually got married and now lives happily ever after
.
1. Why are you interested in being part of the Czech-Slovak group in USA? What do you like the most about this group?
Answer 1: I guess it is a natural desire to be among people who have something in common; in this case it is the language, culture and often even the typical political atmosphere in which we were growing up. Even though I think that Slovaks have a bigger need to meet with others than Czechs do. The Moravians are somewhere in the middle. Besides the CS Group in NJ we are also a part of the NYC Meetup CS Group because we live in Brooklyn. What I like the most about the NJ group is their home like atmosphere since they meet in people's homes rather than in bars/pubs like we do in NYC.
Answer 2: I didn't have particular interest in being a part of a CS group, as I have had some bad experiences in the past and was keeping my distance out of cautiousness. However, when I met Michaela and her group of friends, I finally felt the common frame of reference bond that I had previously hoped for – without the drama that I experienced with other groups. The thing I liked the most was that while they were all Czech or Slovak, they were also very well integrated into their American lives (as I am) and were very accepting of my American husband. Both my hubby and I just fell in love with that. It was a match for us – a group of wonderful friendly and open minded people who understand the cultural complexities of being half Czech or Slovak and half American. What is there to not like? The group also seems to have a mixture of smart and some very well educated professionals that are simply satisfying to be around and have conversations with. Even if we get silly or talk of nothing, there is a level of worldly sophistication to this group. So I'd want to hang with these people even if we didn't have the one common denominator of CS nationality. I'd want to know them even if they were Americans or if we all lived in CS countries.
Answer 3: I wasn't really interested in joining any CS group when I first arrived in the US. I thought I would find many friends and it would not manner whether they are from Slovakia, Brazil or America. However, with time, I realized that I have most in common with people from other countries and specifically with those from the same corner of the world as I am from. What I like the most about our group is simply that we are just really good friends. While we meet during amazing meals and drinks we can also practice our Slovak, Czech and English together.
Answer 4: I like to try to connect with other Slovak/Czech people because both my parents are from Slovakia (I am 1st generation) and my husband is Czech (10 years in America).
Answer 5: I think it is only natural that Czechs/Slovaks in America are seeking their natives. What connects us is love for our country, traditions, history, culture and national mentality. We can have tons of American friends, but none of them can replace that beautiful feeling of togetherness, when Czechs meet up for a beer, sing folk songs and quote Cimrman.
Answer 6: Good people with similar mentality.
Answer 7: To get together and chat with people who share similar culture and thinking. To meet new friends and see the old ones.
Answer 8: I would like to learn Slovak since I already speak Czech.
Answer 9: Because we always have great time together.
Answer 10: For the feeling of fellowship and keeping up the good friendly relationships; culture and ethical principles, traditions and memoriesof home.
Answer 11: As I had mentioned 3 years ago, I was really homesick and I wanted to meet people who are similar to me, because I had a feeling that we'd have so much in common. And now, 3 years later I have to say that this CS group that really came together by chance grew up so beautifully. We are sort of like an extended family in USA. I am always looking forward to the next meetup because each one is different and so wonderful!
2. What would you advise other Czechs and Slovaks in USA in order for them to be just as successful as your group?
Answer 1: Do not depend only on meetups in bars, but organize some meetups at someone's house or plan a group trip. Yes, it involves some planning and work, and Michaela could speak more to it, but it is always worth it.
Answer 2: Frankly, I only know one other Czech/Slovak community and I am not sure they'd call themselves "a group", although there certainly is group dynamic and everyone is intertwined with all others. The group that I know had not been very welcoming. Especially to someone like me, who had integrated into the US life quite well and has an American husband. Half the people in that group seemed to be very resentful, had nothing pleasant to say about Americans or America, and refused to learn English, even if they'd lived in the US for up to 10 years. The hateful remarks directed at my husband notwithstanding, I simply couldn't understand such a hostile and unhappy attitude and didn't have any desire to connect with it. So my advice would be: Do not be haters. Be positive and nice and polite. Do learn English well – it is to your credit as a human being to step out of your comfort zone and confront the confusing realities of life in the USA. Do not judge all Americans by the same measure, lest you be judged the same way. Think critically, but Do not block yourself from new experiences. Open your minds and for goodness sake, stop the drama and hostility.
Answer 3: My advice is to stay in touch. Meet often, call each other, and email each other. Our group meets at least once a month.
Answer 4: Patiently look – good natives can be found everywhere.
Answer 5: Do not gossip – haha 
Answer 6: You can't fake these things. It either works or it is better to dissolve it.
Answer 7: Do it like I did. Start looking on the internet for local Czech-Slovak meetups and search for Czechs and Slovaks in your area. I am sure they are out there. I really wish for all of you that you can find such wonderful good friends like we have here in New York/New Jersey area.
3. How long have you been living in USA and why did you leave your country and came over here?
Answer 1: We have been living here with my husband for four years and we both left Czech Republic to study PhD and possibly post doctorate; therefore, we might stay here for a while.
Answer 2:  I have lived in the USA for 11 years now. I wanted to study English and American Studies and Linguistics in Prague. I was accepted to Charles University, but decided to take a year to explore the American way of life at first hand. I signed up for the Au-Pair program, which at the time was under the "Cultural Exchange program Visa". During my Au-Pair year in America I met a great guy and simply couldn't part with him. We dated for 6 months and a month before the end of my year he asked me to marry him. And thus started my new life in the United States. I picked up where I left off at home – went to college (part time) and got a job (full time) and that's "all she wrote". 
Answer 3: I have been living in USA for five years. I left Slovakia because I did not feel that I had that many opportunities like I would abroad. Since I spoke several languages, I was always interested in living in another country. I came to the US because of two reasons, my sister and education. They are both big part of my life abroad and both are irreplaceable treasures to me. To have a sister nearby when rest of the family is across the ocean is unbelievably wonderful.
Answer 4: My husband and I came over here 16 years ago to study biochemistry at University of Chicago.
Answer 5: I have been here for 4 years now. My motivation was to improve in English language and to improve my professional experience respectively, because USA is still #1 in IT. I would like to later apply these experiences in Slovakia or I would like to start my own company in the US.
Answer 6: Ten years / reason: adventure.
Answer 7:  I have been in USA since 1994. They offer higher salaries here.
Answer 8: I have been in USA for ten years; I won the 'green card lottery'.
Answer 9: I have been in USA for 12 years. Initially, I planned to come only for a year to travel, get to know the country, culture and later education and work.
Answer 10: I left almost 19 years ago since we were finally allowed to travel after the communism and I wanted to explore the world. First I thought of Australia, but I had an opportunity to join the Au Pair program in England. Someone in England recommended coming to the US to study here, and so I did. I am not sorry about anything.

4. For those who do not speak Czech or Slovak, what do you so that people who do not understand do not feel pushed aside during conversations and also the other way to avoid having others speak only English because of those few who do not understand?
Answer 1: That is the nice thing about this CS group. They are all 'in and out' of English as needed. My husband understands enough Czech and Slovak to pick up what the conversation is about and then he can join in. Everyone seems to be happy to accommodate the in-between communication space. I also fill in the blanks for him when something interesting is being said that he might not pick up on his own.
Answer 2: We always try to speak English, Slovak and Czech. In most situations we try teaching our partners to speak Slovak or Czech in order for them to feel more comfortable amongst us.
Answer 3: You can certainly overcome the language barrier with a little bit of effort. The simultaneous translation works effectively, but most of the things can be understood without the actual translation.
Answer 4: I asked my husband to answer this question for you. He said that I always introduce him to everyone and translate important topics for him. He also said that I try to find the middle ground to make sure that we both have a good time. Of course if there is an American in a group, I make sure they sit together. Also, he loves Czech beer and food… You do not need to speak the same language to enjoy it.
Answer 5: I do not know, it is difficult, American friends change the dynamics.
Answer 6: It is difficult sometimes. I think that we are so excited that we can speak Czech or Slovak that sometimes we get caught up in conversation and we forget that some people do not understand us. However, this is where I think we are really good, because we immediately can switch into English or someone can translate for them. Sometimes we only speak English and therefore everyone understands right away and it is fun. The important thing is that at the end we all understand each other and I think that our American friends understand that sometime we just forget about what language we are speaking at the moment, when we start speaking in our native language. After all, those of us who have lived here much longer realize that we kind of speak in our own made up language consisting of the mix of 'Czech-Slovak-English' in one. 
5. For those with children; what language do you speak together at home with your children? Do your parents understand their grandchildren when they come to visit from home? How do they communicate between each other? How do your children manage the contact with American children and how do they know when and how to switch into another language when they only speak Czech or Slovak at home?
Answer 1: My boys use to watch krtek & a few other shows but since they started school they have no interest in learning Czech or Slovak (sadly).  My mom speaks English.  My in-laws speak only Czech and the kids get frustrated that they cannot understand them.  It is a tough situation.  However as long as they try to play with them, give them sweets (!), they are happy.  My mother in law had to learn "pizza", "hotdog", "trains" and a few others.
Answer 2: We have three children between the ages five to seven. We try to speak only Czech or Slovak at home, but the English influence from school/kindergarten is very strong. When they play together, they often prefer English. We would like them to keep up with the Czech/Slovak language. The visits from home are very helpful in this, when the children are communicating with their grandparents and they are exclusively relying only on the native language.
Answer 3: My children speak mostly English, but when they have to they do squeeze some Czech language out of them.
6. What kind of activities do you do in this group together and which of them were your favorite ones?
Answer 1: Meetups, holidays, BBQs and bon-fire parties. My favorite was Michaela's Christmas party. I get very homesick around that time and as we do not have children, I do not have that much reason or drive to just put on the traditions for the two of us. But when Michaela does the party, it is like being at home and feeling a real emotional connection to my roots and my childhood. It inspires me and reminds me of the true magical Christmas experience. I am really grateful to Michaela for that (and for the wonderful cooking and the amount of effort she puts into things).
Answer 2: We have been together for a couple of years now and we do all sort of activities. My favorite ones have to be the bonfires and festivals. My biggest joy is really anything as long as I have my friends nearby. We simply always have so much fun together!
Answer 3: We celebrate all Czech holidays (latest was the Easter), but we do not avoid any American traditions either. We can always find a reason to celebrate. The water is luring in the summer and grilling outside, and we are drawn to 'svickova' and Christmas baking in winter.
Answer 4: My most favorite activities are when we watch Czech movies together or we have a bonfire outside at our 'boss' house.
Answer 5: Christmas!! .. because it is Christmas 
Answer 6: Everywhere where we can eat and drink is my favorite activity.
Answer 7: Christmas, bonfire and disco dancing 
Answer 8: My favorites are those when we all meet together, chat together and when we strengthen our friendship contacts. It is good to know that even here, far away from home there are people with the same origin. It is nice to know people of good background and having the feeling to belong somewhere.
Answer 9: In essence, I do not care about what we do as long as we meet together. We went to Bronx ZOO, Czech and Slovak festivals, Longwood Gardens in DE, hiking in nature, enjoyed time together at the lake. However,  what I like the most is when someone is doing a party at home and we cook together our Czech and Slovak dishes, or when someone is having a bonfire outside and we can barbecue the knockwurst  People who are coming over always find some good CS beer in stores and bring over, even vinea, kofola or our mineral waters. Someone even brought bryndza once (sheep cheese typical to Slovakia), real 'ostiepok' (smoked cheese from Orava region in Slovakia), real CS pastries, kielbasy and we even made our authentic crêpes 
7. Do you get along with everyone in your group and are you also in touch outside of the group?
Answer 1: I haven't had any disagreements with anyone. I do have a disadvantage in meeting up with people on other occasions, as I live in upstate New York and everyone else seems to live in New Jersey. I have met with some people outside of the meet ups, but I wish I could do that more often.
Answer 2: Personally I really like everyone in our group. We are kind of like one big family and we are constantly in touch even outside of the meetups. In order to get along, we respect each other and we tolerate each other's opinions, even though we may not agree with some of them.
Answer 3: Our group has expanded nicely and everyone always gets together wonderfully. Unfortunately, because of our busy family and work life we can't meet as often as we would like with the rest of the group.
Answer 4: I get along with everyone in our group. It is because we were carefully selected 
Answer 5: Yes, I get along with everyone and I meet some of them even outside of the group meetups.
Answer 6:  I do get along.
Answer 7: Yes!
Answer 8: With some people I am in touch more than with others. In general, I think we all get along, I do not recall any conflict among the group members. Moreover, when we meet we always have fun and good time together.
Answer 9: I do. I get excited when I meet new people who think like us, who are positive, full of adventure and they give new people a chance. It is true though that we do not simply invite everyone into our group just because they are a Czech or Slovak. As I mentioned before, it is mostly for people who have been living here a longer time, more permanently and they are interested in these type of meetups because they think alike. Simply it is for people who are on same 'wave links'  We are extremely friendly and believe me that it is not easy to organize these meetups for so many people, especially when we all live far away from each other for frequent meetups. We try to organize activities that would be enjoyed by most during the weekends and mostly in places that most people have reasonable distance to. It is true that many have to travel far, but I think it is always worth it.
Answer 10: It's lovely, and important – a connection and opportunity to feel at home with others who understand your story.
8. How and where do you meet new Czechs and Slovaks in USA? Do you invite all new CS to your group?
Answer 1: I have met most Czechs in the Czech Center in Manhattan and then in Bohemian Hall and Beer Garden in Astoria. I think that the organizers have to decide who they want to invite to this group, but I think it is not necessary to invite everyone. As it is with most groups, many people leave naturally, just as it works with the NYC meetup group – everyone can come, but only some of them will remain and meet regularly.
Answer 2: If I was to meet someone great, then by all means I would want them to join. But I am a little shy (even though people who know me do not think so), so I do not get that much opportunity.
Answer 3: We meet many new people at various festivals and we are constantly meeting new people via Facebook. Everyone is welcome!
Answer 4: I believe that most of the initial meetings are accidental. Contacts are shared via the people we know and they come in like an avalanche. It is not a big problem to meet new people in the world of internet today.
Answer 5: I personally suggest to only invite people who fit into the group.
Answer 6: At  meetup.com.
9. Where and how often do you meet and how far do you have to travel for a meetup?
Answer 1: It takes us about two and a half hours to travel to a NJ meetup group, that is why we might not be able to come very often. It takes us about one hour to come to NYC meetup group – I come only seldom, but my husband goes almost every time, about once a month.
Answer 2: I have to drive about 2 hours to NJ or about an hour (and a half with parking) to the City. I am not a completely regular attendee. I have been going through some personal things and have not had energy to see many people, but I hope to improve that. After all, each time I do come out and see the folks, I feel invigorated and happy.
Answer 3: We usually meet in someone's home or at festivals or in New York, since it is so close and it is easy to travel there. It depends on the weather and the season.
Answer 4: Our tireless organizer Michaela plans the exact frequency of meetups. Our family unfortunately lives quite far from the 'epicenter' of the group (almost 2 hours by car); therefore, we are forced to skip many of the meetups.
Answer 5: Once every two months (me personally) and I travel about one to two hours.
Answer 6: It is about 2-3 hours for me to come from NYC.
Answer 7: Few times in a year, sometimes in public places (restaurants, parks), other times in someone's home. The travel depends on many circumstances, but in most cases it takes me a long time to come to the agreed locations. We can always agree on carpools which are usually fun.
10. How do you foster your Czech-Slovak traditions in your home in USA?
Answer 1: By celebrating the holidays and festivities that we normally celebrated back home such as Advent, Christmas, fasting and Easter. Even if we simply decorate only few eggs at Easter and my husband whips me just symbolically with the wooden spoon, we try not to ignore them. Also, it is by cooking our home made dishes and not getting into the American way of eating which is fast food or buying processed foods; but rather buying whole foods and cooking meals at home according to our Czech recipes. Person can really relax this way and I believe that one can have a better understanding about what they are eating.
Answer 2: I try to cook some Czech food and uphold some holiday traditions. I also try to teach my husband Czech and tell him about the customs. But it would be hard to sustain anything without the support and inspiration from Michaela and others in the group.
Answer 3: Christmas is my biggest tradition. I prepare everything during Christmas just as I learned from my Mom and Grandmother. Even though I decorate the Christmas tree much sooner, just like they do it here in the US, we cook traditional meals like the sauerkraut soup, fish and potato salad. Of course, the traditional Christmas pastries would not be missing from our table. We also open the Christmas presents on Christmas Eve just as we are used to back home. Beside the Christmas and Easter holidays I also keep up with my CS roots by listening to Slovak radio, baking Slovak cookies, pastries and cooking Slovak dishes. It is important that we always have our traditional meals and drinks during our CS meetups.
Answer 4: We only celebrate my husband's name day.
Answer 5: We celebrate Czech-Slovak Christmas, Easter and we cook our traditional dishes, sing CS songs and we remember our culture by watching CS movies and fairy tales.
Answer 6: We keep up with all our traditions, maybe even more than when we were back home.
Answer 7: Since I am Slovak and my husband is Czech, it is much easier for us. We cook at home quite often and we celebrate all our holidays like Christmas and Easter. We invite other CS friends to join us at Christmas Eve table. Our Christmas is the typical Slovak Christimas tradition – with the wafers (oplatky) ceremony, honey, garlic, walnuts, splitting the apples, making honey crosses on forehead. We make sure we have the real traditional Christmas sauerkraut soup, carp, potato salad and many different types of home made pastries.  We open the presents on Christmas Eve while we listen to the Czech and Slovak Christmas music. We play our board games like 'Sorry' and we watch many CS movies. Now we can even listen to the CS radio directly from our phones when on the road. We organize many meetups and activities for other Czechs and Slovaks in this area and we visit the CS festivals. Of course we speak three languages at home – Czech/Slovak/English, many times all in one sentence. We developed our own hybrid language 

11. For those Czechs/Slovaks who have American partners, are you teaching them your language and have you visited your home country with them? What are their impressions of Czechs/Slovaks, your culture and country?
Answer 1: My husband is very cosmopolitan. He's traveled Europe and learned languages (all on his own). He has natural interest in foreign cultures, so he enjoys my 'Czechness' and has eagerly visited my home several times. He's learned a lot of Czech and enjoys showing it off when we go to visit. He understands a lot (speaks less). He finds our customs curious and enjoys playing along. He's very open minded. He is also very patient and has sat through days of nothing but Czech talk during long obligatory family visits back home. What he doesn't like is when he encounters unjustified hostility toward himself as an American. He expects the same openness out of others and doesn't always get it. He is one that would happily discuss the ills of the American way and the problems with American influence around the world and the ridiculous politics of America. He's happy to do that with any Czech who has an open mind and an informed constructive argument. And he's likely to agree with them on most things. But he gets very upset when people pre-judge him. Unfortunately he's encountered some hate toward America (and by extension Americans) in CR, and so he is somewhat cautious of the prevailing Czech attitudes toward America. Conversely he's very happy when he encounters friendly and outgoing people.
Answer 2: I visited Slovak twice with my boyfriend. He was very interested in my culture and country I come from. He gradually learned many Slovak words and phrases and he tried to understand my language. It means so much to me when someone makes an effort to learn about a different culture. He had the best impressions of my country. He really liked Slovakia and he loved Slovak people right away.
Answer 3: Of course I wanted to show my husband where I was born and have him meet my family. When I asked him about his thoughts about my culture, he said that the people are so friendly and welcoming. He especially liked the castles and mountains. As for the other part of the question, he knows few basic words in my language. I want him to be himself and if one day he chooses to learn my language that's great, if not that's ok too.
Answer 4: We visited our country and the impressions were very good.
12. What are you planning next for your group? What kind of activities/trips/meetups?
Answer 1: Well, I hoped that some people from the group would come out for Catamount Trees adventure with us, but I am not sure if it might not be too far to travel for most.
Answer 2: I guess the next meetup will be by a bonfire. Then there is the annual Slovak heritage festival at the PNC Bank Art Center at the end of September in NJ. We really like going to that one together.
Answer 3: Bonfires or sun tanning at the 'boss' house by the brook and lake.
Answer 4: We would like to go tubing on the Delaware River together, swim at the lake or go hiking to Lake Minewaska in NY state. We were thinking about going to Vermont together and rent a house for a week. And of course, we are planning couple of frequent summer outdoor bonfires and NYC meetups. We are always turning our brain cells to come up with new ideas of what to do and where to go next 
13. How do you plan your next meetups amongst each other and how do you communicate amongst the group friends in order to come up with something that would work for all?
Answer 1: I usually get an invite or an email asking for best convenient date (from Michaela or whoever else might be hosting a meeting).
Answer 2: We usually aim to plan at least couple of weeks ahead, so that everyone has a chance to pick a date that works for most of us. Usually, we send out an email or we send out a Facebook event invite. Of course there are times that not everyone can come to every meetup, that is why some of us meet more often and this way we can get a chance to see most of the friends throughout the year.
Answer 3: We communicate by email/phone. Michaela is a wonderful organizer, so this way the dates can accommodate most of the people in our group. If people are interested in meetups, they always find the time.
Answer 4: Via email or we call the 'boss' 
Answer 5: It is not easy, because not everyone is on email or Facebook like I am. Usually we send out emails with several dates for the next meetup or someone just calls everyone about the trip to NYC. When people come over to our house, we usually cook and bake and we suggest others to bring the beverages. This seems to work every time. We also have a Facebook page, but that is more general page for people in this NYC/NJ area. We wouldn't post our meetups on this site. I like when I know about who is coming and how many people in respect to the amount of food to prepare. I always remind people to RSVP so we can plan the chairs, seating, food etc..  We also keep an updated Czech-Slovak contact list so that everyone has everyone's information – name, birth date, where from, how long in USA, address/phone, email/how many children. It is very good because this way people can contact each other outside of the meetups if they live close to each other. They can also plan play dates for their children.
14. What would you like to add about your Czech-Slovak group for our CzechMateDiary readers?
Answer 1: Our group is made up of the kindest and best Slovaks and Czechs that I have ever met!
Answer 2: I would like to take this opportunity to thank Michaela and Filip for their tireless and wonderful organizing of our group. Our children are always looking forward to these meetups and they are never disappointed! THANKS for all the beautiful moments in this circle of native friends!
Answer 3: What is good about this group is that it has a great 'organizer',  who keeps the whole group together, if you know what I mean..
Answer 4: Our group is full of various people with common goal and that is to keep up the Czech – Slovak traditions, communicate with people who share the same interests and thinking. Our 'boss/organizer' does an amazing job!!!
Answer 5:  Wonderful diversification of everyday's life.
Answer 6:  Slovak band Elan- song 'Clovecina' find it and listen to it 
Answer 7: It is really nice to have friends far away from home with the same cultural background, interest and values. For me, it is important to have sense of my own cultural identity and foster it though meeting people within the same ethtnic background; and at the same time to be open to other people from different cultures and let them join our group as well. If you have the opportunity to meet/join similar network, do not hesitate to do so, you will be enriched in so many different ways!
Answer 8: I am extremely happy that we started this group over three years ago. Even though all of us do not meet regularly, there is always someone wonderful each month at our get togethers and it is quite spontaneous. When someone is planning an event, it is always so wonderful to be together and we often laugh very much as we are having a great time. I have a feeling like I am in a family environment, as many of us have known each other for over three years and each time we get to know each other a little more. There are some people in our group that paired up, some broke up unfortunately, but we all understand that since we are this far away from home, we have to stick together and help each other if someone needs help. We laugh together and sometime cry together when the unexpected 'life' happens. We even had a Czech-Slovak wedding in our group where everyone helped out with the wedding preparations, ceremony and food which was great. Someone played the violin, someone took the pictures, recorded the video and girls helped out with the food, drinks and decorations in the backyard/garden. We have so many memories now.
We were together on some trips, too. If someone was sick or needed help with doctors, all they had to do was call and someone was always able to help out. When people needed help with moving, others came and helped them with packing and moving, even in the middle of snow storm  At the same time if someone needed help translate something, or 'proof read' a paper for school, we were always willing to help. We simply are like an extended family and we always stick together, we enjoy each other's successes and rejoice in other's accomplishments. Even though we all have different characters and opinions, we can tolerate each other, we stick together and we remember where we came from, what connects us and what is important. I am very grateful for this group. Despite our growing size, I am always excited to welcome new friends who are interested in being part of our Czech-Slovak-American extended family. I speak of us as 'CS group', but the truth is that it is not a formal organization that has its members haha.. we just joke about it. The term 'boss' (veduca) has been used by some friends and others liked it so we know who we are referring to  This is a really great group of people who think alike, like to meet, help each other and always call one another. Well, you know what I am talking about 😉
If you liked this post buy me a coffee! (Suggested:$3 a latte $8 for a pound) Thanks!