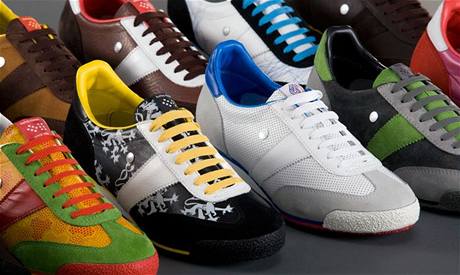 Remember Botasky, the boring communist shoes that everyone would wear? They are back and they are popular!!! But don't worry, they did go through quite the make-over, created by 2 young Czech art students, Jan Kloss and Jakub Koros. 'Our school task was to make  new sport shoes so we decided to make a new shoes from the old ones'.
The new style Botas shoes have a wider toe and come in 13 different designs from which one design is kept 'sentimentally' white. Each pair costs 1,600 Czech crowns (about $80!!) and tend to get sold out pretty quickly :o)

CZ: Pamatujete si na ohavne komunisticke botasky (firma Botas), ktere tenkrat nosil skoro kazdy? Tak ty same botasky jsou zpatky a jsou take velmi popularni! Nebojte se, prosly zcela princeznovskou promnenou a neni divu, ze jsou ted stale vyprodane. Tyto tzv. retro botasky navrhli podle klasickeho modelu  ze 60. let 2 studenti VSUP v Praze, a to Jan Kloss a Jakub Koros. ' Meli jsme zadani delat novou sportovni obuv. S Jakubem jsme se rozhodli udelat ze stare novou, ozivit ji."
Boty maji oproti puvodnim botaskam sirsi spicku a 13 novych vzoru, z nichz 1 "vyrocni' je bily. Vyrabeji se jen v Cechach (firma Bata) a stoji 1 600 korun (to je $80!!!).
Source: http://relax.lidovky.cz/retro-botasky-se-lvem-ci-v-narodnich-barvach-jsou-novym-hitem-ptj-/moda.asp?c=A090618_115023_moda_glu

If you liked this post buy me a coffee! (Suggested:$3 a latte $8 for a pound) Thanks!