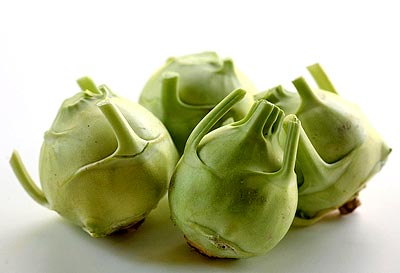 Most Americans are not at all familiar with kohlrabi. No, it's not the second most common Jewish name or some new kid's card game. It is a vegetable which the Czechs and Slovaks are very fond of. In fact, we are so fond of it, that I am growing it in my garden! Granted, half of them got pulled down by those damn gofers but the other half ended up in our bellies (including our guinea pig).
I strongly suggest if you have a little space in your garden that you plant some of those seedlings so you can experience the refreshing taste of it. You can eat it raw (just peel the skin), put it in your salads for extra crunchiness, or you can cook with it. Here is a kohlrabi soup recipe that caught my attention when I was browsing the Czech cooking sites:
Ingredients:
2 big potatoes, peeled and diced
2 kohlrabi, peeled and shredded
2 big carrots, peeled and shredded
about 3 Tbs of sour cream (depending on your taste)
about 1 Tsp of caraway seeds
salt, pepper to taste
Method:
Boil about 5 cups of water
Add potatoes and seasoning in it and cook it for about 5 minutes
Add the rest of the vegetables and the sour cream
Cook until the potatoes are done
Garnish with parsley and chives


CZ: Nevim jestli jste si vsimli, ale Americane vubec neznaji kedlubnu! Nedavno jsem ji ukazovala jednomu nasemu Americkemu kamaradovi a nevericne se na to koukal jako by to spadlo z vesmiru! Proto jsem se rozhodla je obdarovat jednim zajimavym kedlubnovym receptickem…..;)
Source: http://www.recepty.cz/recept/potstynska-kedlubnacka-18059
If you liked this post buy me a coffee! (Suggested:$3 a latte $8 for a pound) Thanks!