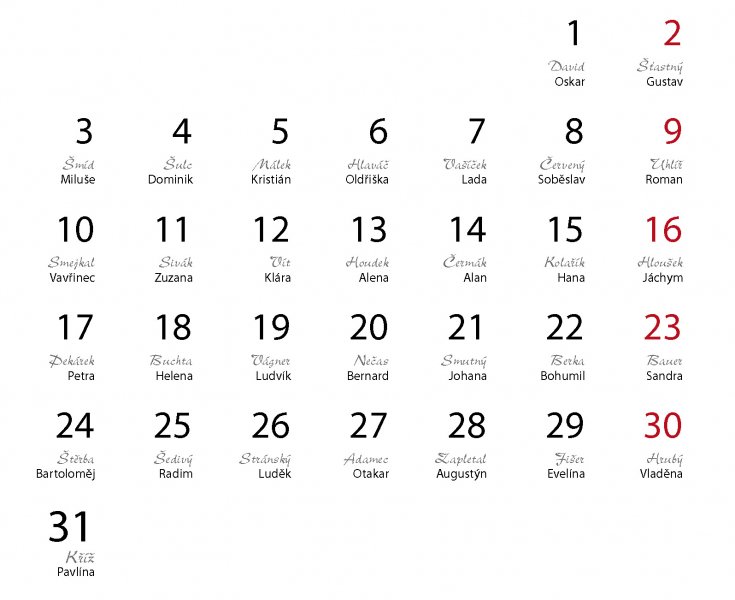 My American hubby loves to joke about the Czechs. Like the other day it was my name day and he says: "You guys are so greedy that a birthday is not enough for you."  I replied the Polish people have name days too. And he says: "But they deserve it because they got flattened in World War II".
Yep, he is a funny guy :). Deep inside he really loves our culture and wishes "Keith" would be on our calendar of Czech names.
But the story got me thinking about name days. Where did they come from and why some countries have them and some don't? Actually, there are 21 (!!) countries that celebrate them. The origin of name days comes from the Christian calendar of Saints and believers who were named after a particular saint and would celebrate that saint's day with a feast.
Today, in the countries that celebrate them, each calendar day has a name(s) assigned to it. The list of names has been modified only by a few countries, such as Sweden and Finland, but not in other countries.
Everyone in the Czech Republic loves name days except all Adams and Evas (Eve) who have them on the 24th of December. That day happens to be the celebration of Christmas – the most important holiday ever – so their name days tend to be kind of……. forgotten . I know what am I talking about since my younger daughter is Eva and instead of having her suffer and 'celebrate' it (not) on Christmas Eve we celebrate her name day on Hahna's name day (my older daughter). That way is more fun.
In Hungary and Italy name day is as important (if not more) than an actual birthday! So can someone explain to me, why this fun tradition did not get brought by the  European pilgrims to the United States?? We sure miss it here! At least I do….

CZ: Muj americky manzel si potrpi na zerticky zamerene proti Cechum (samozrejme, ze v hloube duse ceskou kulturu naprosto miluje a zavidi nam). Tak treba pred par dnemi jsem mela svatek, a on pry ze 'kdo jiny potrebuje neco navic nez jen narozeniny – Cesi! A ja mu odvetila, ze Polaci napriklad take slavi jmeniny. A on na to: "No jo, ale ty byli v druhy svetovy valce na prosto zdemolovani. Ty si to zaslouzi."
No jo, je to vtipalek, ten muj manzilek.
Nicmene me ta diskuze donutila zamyslet se nad tim, odkud svatky vlastne prichazeji. Jejich zacatky jsou spojeny se zacatky krestanskeho kalendare, kazdy den byl pridelen nejakemu Svatemu, jmena se pak davala obycejnym lidem. Ti meli potom v onen den kazdorocne oslavu pro toho Svateho….a trosku taky pro ne. No a dnes se z toho ten Svaty uplne vynecha a oslavuje se jen ta osoba.
Jmeniny slavi 21 (!!) zemi a v Madarsku nebo v Italii je dokonce i vice dulezity nez narozeniny!! Tak mi reknete, proc ti Evropsti pilgrimove neprivezli se spousty jinymi tradicemi do Ameriky take ony jmeniny??
If you liked this post buy me a coffee! (Suggested:$3 a latte $8 for a pound) Thanks!