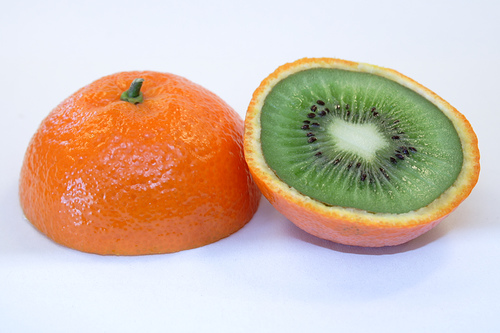 Did you know that the whole EU is free of genetically modified fruit and vegetables? In fact the EU is sooooo anti-GMO that the Czech scientists would like it to embrace more liberal attitudes toward this issue. Proffessor Drobnik who teaches biotechnology at the Charles Univeristy in Prague believes that genetically modified crops are safe and better for the environment than conventional plants because they require smaller amount of pesticides and herbicides. This in turn makes them less expensive and their yields are higher since fewer plants get damaged by pests.
Although the jury is still out wether GMO products harm us for sure it is a bit unnerving that all of the 27 states of EU are choosing to NOT use them.

CZ: Vedeli jste, ze cela EU – vcetne Ceske republiky – neprodava zadne geneticky modifikovane ovoce ani zeleninu? Evropska Unie ma z geneticky modifikovanych vyrobku takovy strach, ze i cesti vedci (jako napriklad profesor Drobnik, ktery uci biotechnologii na Karlove universite) by si prali, aby trosku na svych predsudcich ulevila. Profesor Drobnik sam tvrdi, ze GM potraviny jsou bezpecne jak pro lidi, tak pro zivotni prostredi, protoze potrebuji jen male mnozstvi pesticidu. Tim padem stoji take mene penez a produkuji vice ovoce/zeleniny, protoze je hmyz necha na pokoji.
Profesor Drobnik sice tvrdi, ze se niceho bat nemusime, ale ono to zas tak jednostranne nebude. Vedci stale jeste nad timto rozhodnutim hloubaji, ale zatim je trosku znepokojujici, ze celych 27 statu Evropske Unie se rozhodlo GM produkty vubec nepouzivat.
Source:
http://www.psrast.org/gefonmarket.htm
http://www.radio.cz/en/section/curraffrs/czech-scientists-call-for-rational-debate-on-gmo
http://en.wikipedia.org/wiki/Genetically_modified_food
http://www.organicconsumers.org/articles/article_11361.cfm
If you liked this post buy me a coffee! (Suggested:$3 a latte $8 for a pound) Thanks!