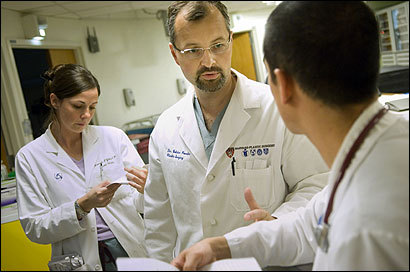 The 'golden' Czech hands are making us proud this time in Boston. A 40-year-old plastic surgeon, Bohdan Pomahac, has recently finished a second complete transplantation of the face. Bohdan, along with other 30 surgeons, has done so in a record time of 14 hours. The receiver was a 30-year-old man who got his skin badly burnt while in contact with an electrical wiring.
Mr. Pomahac was born and raised in Ostrava and studied medicine at the Palackeho university in Olomouc. He came to the US in 1996, established himself at the Brigham and Women's university in Boston and decided to stay.
The next patient waiting for a complete face transplant is Charla Hash, whose face was badly damaged by her boyfriend's 200 lb chimpanzee. Charla also lost her sight during this tragic attack.
The first complete face transplant was done last year in Spain. The patient was a farmer who accidentally shot himself in the face.
It is quite necessary to add that "Pomahac" (the Czech surgeon's last name) in English would translate something like "Helper". What a perfect name for someone, whose profession is to save people's lives!
Good job, dr. Helper!
CZ: Zlate ceske rucicky se tentokrat nevyhnuly ani Bostonske nemocnici na vychode Spojenych statu. Plasticky chirurg Bohdan Pomahac (krasne prijmeni pro  nekoho, kdo je doktor) vedl 30-ti clenny tym po dobu 14-ti hodin, aby kompletne transplantovali oblicej a to v tak rekordne kratke dobe. Prijemcem byl tricetilety muz, ktery utrpel vazna popaleni pri kontaktu s vedenim elektrickeho proudu.
Ctiricetilety Bohdan je z Ostravy a vystudoval lekarskou fakultu Palackeho univerzity v Olomouci. Do Bostonske nemocnice, ktera je jedna z nejlepsich v USA, prisel na chirurgickou praxi v roce 1996 a do Cech uz se pracovat nevratil.
Na dalsi transplantaci v Bostnu nyni ceka pacientka Charla Hashova, kterou v roce 2009 oslepil a znetvoril devadestikilovy simpanz jejiho pritele .
Prvni celkovou transplnantaci obliceje provedli v lednu minuleho roku Spanele. Prijemcem byl tentokrate farmar, ktery se nestastne strelil do obliceje :(((
Source: http://www.ceskenoviny.cz/zpravy/cesky-chirurg-v-usa-podruhe-transplantoval-cely-oblicej/628720
If you liked this post buy me a coffee! (Suggested:$3 a latte $8 for a pound) Thanks!