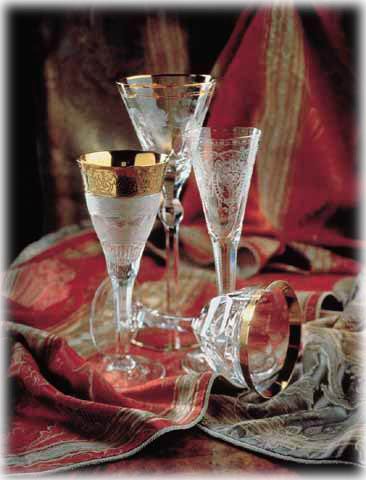 Remember when we were voting on 7 wonders of the Czech Republic? Well, the votes have been counted and the results are in. Here they are:
it has its trademark in EU now
the Czechs drink

annually about 160 liters per person,

which makes them the world winners
the historical records of Czech beer reach all the way to 1088 (during the reign of king Vratislav II.)
year 1842 welcomes the birth of Pilsener Urquell, the most popular Czech beer ever
known for its high quality (on the home front and worldwide)
it has been around since the 13th century
Czech crystal chandeliers decorate the

opera house in Rome, Milan's La Scala or Versailles

19th century Czech artist Bedrich Egermann pushed ahead the 'crazy' thought of glass becoming a new form or sculpturing material
3. Charles the Fourth (1316 – 1378)
The most well-known Czech king ever, known as the Father of the Land
He took over the Czech lands when they were in a terrible shape and made them out to be the most powerful state (Roman Empire) in Europe
A founder of the first university in Central Europe (Charles University in Prague), Prague's Charles Bridge and other magnificent structures
4. Contact lenses
developed by Otto Wichterle (1913 – 1998) who was a co-developer of

other 150 patents

such as silon (type of nylon). Otto was a founder and the first director of Institute of Macromolecular Chemistry in Prague, however, thanks to his anti-communist attitudes, this position was taken away by the communists in 1969
5. Four blood types
Discovered by a Czech neurologist and a psychiatrist Jan Jansky (1873 – 1921). Blood types were already discovered by and Austrian man named Karl Landsteiner in 1901 but he came up only with 3 types. Jan was a great propagator of donating blood.
6. Prague Castle
The symbol of Czech state
70,000 meters squared in size which makes it

the biggest castle complex in the world (!!)

founded in 880 by prince Borivoj
The dominant building at the Prague castle is the Saint Vitus Cathedral which is a home to the Czech crowning jewels. It's tower holds the biggest bell (bell Zikmund) in the Czech Republic
7. Jara Cimrman
fictional figure in Czech humor created by Jiri Stebanek, Karel Velebny, Zdenek Sverak, and the recently deceased Ladislav Smoljak

CZ:Pamatujete si, kdyz jsme volili 7 nejkrasnejsich divu Ceske republiky? Hlasy jsou uz sectene a zde jsou vysledky:
(taken from www.ceskenoviny.cz)
Vizitky vítězů ankety České televize 7 divů Česka (řazeno abecedně):
Cimrman – Fiktivní český génius Jára Cimrman se zrodil v roce 1966 v rozhlasovém pořadu Nealkoholická vinárna U pavouka; u jeho zrodu stáli Jiří Šebánek, Karel Velebný a Zdeněk Svěrák. Mystifikace okolo postavy zapomenutého všeuměla dala vzniknout Divadlu Járy Cimrmana, jehož hlavními protagonisty se stali Svěrák a před pár dny zesnulý Ladislav Smoljak a jehož prvním představením byla v roce 1967 hra Akt. Následovalo dalších 14 her, které si získaly nebývalou přízeň diváků a staly se doslova nesmrtelnými jako sám Cimrman, jemuž bylo odhaleno mnoho pomníků a pamětních desek, a to nejen v ČR.
České pivo – Patří mezi nejznámější piva ve světě a je též chráněným zeměpisným označením v EU. Češi vypijí ročně asi 160 litrů na hlavu, což je nejvíce na světě. Tradice českého pivovarnictví sahá podle dochovaných dokladů do roku 1088, kdy první český král Vratislav II. přidělil kostelu na Vyšehradě desátku chmele na vaření piva. Pivo se ale zřejmě v Čechách vařilo už dříve. V roce 1842 se zde také díky kvalitním domácím surovinám zrodilo nejpopulárnější české pivo – plzeňský spodně kvašený ležák, který dal jméno a stal se vzorem piv plzeňského typu (pilsner, pils). Dnes v ČR funguje asi padesátka vetších pivovarů a několik desítek minipivovarů. Asi polovinu českého trhu ovládá Plzeňský Prazdroj, patřící skupině SABMiller.
České sklo – Doma i ve světě je synonymem kvality
a tradice, sahající přinejmenším do 13. století. České křišťálové lustry visí mimo jiné i v Královské opeře v Římě, v milánské La Scale, ve Versailles či v petrohradské Ermitáži. K nejvýznamnějším přínosům českých sklářů se řadí například tavba modrého kobaltového skla rodinou Schürerů v 16. století, objev českého křišťálu v Müllerově sklárně v 17. století či výroba barevných sklovin Bedřichem Egermannem v polovině století devatenáctého. V minulém století se stal v oboru legendou například Stanislav Libenský, který prosadil sklo jako uznávaný sochařský materiál
.
Karel IV. (1316-1378)- Nejslavnější panovník české historie, přezdívaný Otec vlasti, na trůn usedl v roce 1346 po smrti svého otce Jana Lucemburského a zubožené české království dovedl jako císař Svaté říše římské mezi nejmocnější státy v Evropě
. Nejen v Čechách položil tento vzdělaný a obratný státník základy řady významných institucí a staveb
, jež nesou jeho jméno. Založením první univerzity ve střední Evropě v roce 1348 učinil z Prahy
středisko vzdělanosti a kultury. Jeho ostatky spočinuly v královské hrobce, kterou nechal postavit pro sebe a svou rodinu v chrámu sv. Víta na Pražském hradě.
Kontaktní čočky – Otto Wichterle (1913-1998) – Autor či spoluautor asi 150 patentů, proslul zejména objevem prvního českého umělého vlákna (silonu) a měkkých kontaktních čoček, které dnes používají miliony lidí po celém světě. Rozhodující pokusy s výrobou čoček z hydrogelu provedl v roce 1961, kdy si z dětské stavebnice Merkur sestavil prototyp odlévacího zařízení. Byl zakladatelem a prvním ředitelem předchůdce Ústavu makromolekulární chemie, funkce byl zbaven kvůli politickým postojům v roce 1969. V roce 1990 se profesor Wichterle stal předsedou Akademie věd a od roku 1993 až do své smrti byl jejím čestným předsedou.
Krevní skupiny – Jan Janský (1873-1921) – Neurolog a psychiatr, jenž světově proslul díky klasifikaci čtyř krevních skupin. Ty sice objevil už v roce 1901 Rakušan Karl Landsteiner, který ale popsal jen tři. Janský nezávisle na něm uveřejnil v roce 1907 práci
, v níž podle určitých rozdílů v některých vlastnostech krvinek rozlišil čtyři krevní skupiny. Jan Janský byl též propagátorem dárcovství krve; na jeho počest je bezpříspěvkovým dárcům krve v ČR a na Slovensku udělována medaile prof. MUDr. Jana Janského.
Pražský hrad – Symbol českého státu a nejvýznamnější česká památka, která byla tradiční sídlem českých panovníků a od roku 1918 je sídlem prezidenta republiky. S rozlohou téměř 70.000 metrů čtverečních je největším souvislým hradním komplexem na světě. Založen byl kolem roku 880 knížetem Bořivojem. Dominantou tohoto souboru paláců a církevních staveb je katedrála svatého Víta, která slouží též jako pokladnice českých korunovačních klenotů a mauzoleum králů. Na věži katedrály je zavěšen i největší český zvon Zikmund. Od roku 1992 je Pražský hrad na seznamu světového kulturního a přírodního
dědictví UNESCO.
Source: http://magazin.ceskenoviny.cz/zpravy/mezi-divy-ceska-patri-pivo-prazsky-hrad-a-jara-cimrman/490319
If you liked this post buy me a coffee! (Suggested:$3 a latte $8 for a pound) Thanks!