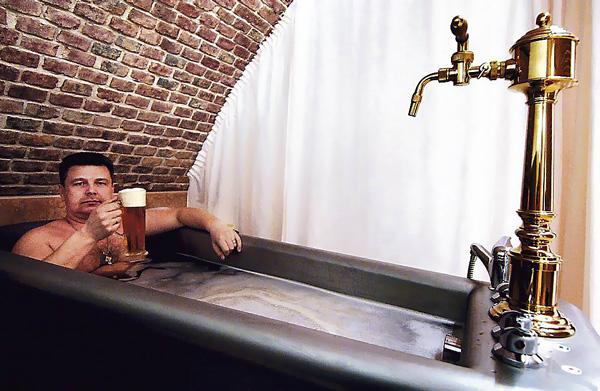 A recent study of the Czech Hydrometerological Institute concluded that "even with the modest warming so far experienced, hop yields in the Czech Republic have stagnated and quality declined". The increasing temperatures (although very suttle) have been taking  the toll on the 'beer plants' which in turn could reduce their yield  by a further 7-10%. Perhaps the most worrying is the decline in the quality of the Saaz hops, which produce our good old Czech pilsners. "The "Alpha" acid content – "a major determinant of quality", according to the team, as it's the compound that produces a pilsner's defining bitter taste – is likely to fall a further 13-32% if the predicted warming occurs. The study found that the concentration of these acids has fallen by 0.06% a year since 1954."
Another researcher from New Zealand National Institue of Water and Atmospheric Research, Jim Salinger, concluded: "It will mean either there will be pubs without beer, or the cost of beer will go up."
Well good, at least there will be less alcoholics in the world ;0)

CZ: Nedavna studie  hydrometerologickeho ustavu v Praze zverejnila studii o nynejsim stavu naseho chmelu a neni to hezky pohled. Diky oteplovani podnebi (i kdyz se tu bavime o pouhych desetinach stupne) se kvalita ceskeho chmelu totiz zhorsuje. V budoucnosti by se uroda mohla snizit az o 7-10%, kde hopsinky, z kterych se vyrabi svetoznama plzen, maji trpet dokonce i vice. Plzen ma v sobe totiz specifickou kyselinu, ktera muze v hopsinkach v budoucosti klesnout o 13 az 32%. Tato 'plzenska' kyselina pry klesla od roku 1954 pouze o 0.06%, takze to by byl obrovsky rozdil.
New Zealandsky vedec Jim Salinger ktery se timto tematem zabyva to shrnul takto: "To znamena ze bud budou hospody bez piva, nebo bude pivo mnohem drazsi".
A ja rikam jen tak dal, cim min piva, tim min alkoholiku po celem svete ;o)
Sources:
http://prorev.com/2009/09/even-beer-threatened-by-climate-change.html
http://www.guardian.co.uk/environment/blog/2009/sep/16/climate-change-beer-quality
If you liked this post buy me a coffee! (Suggested:$3 a latte $8 for a pound) Thanks!