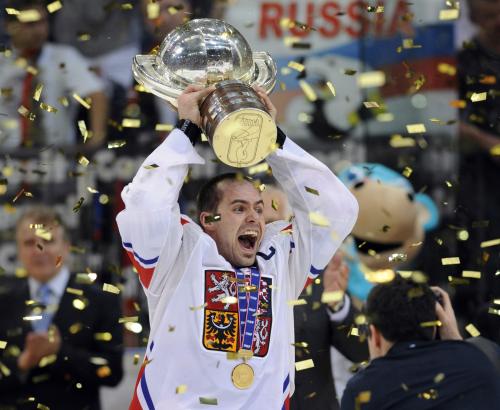 After an unnerving match this afternoon the Czechs beat the Russians 2-1. It truly is amazing since many of the key members of the Czech team live abroad and play professionally with other teams (i.e. Jaromir Jagr currently plays for Avangard Omsk in the Kontinental Hockey League) and have a very little time to practice together as a team.
As my dad said it would be  pure luck if they beat the all-powerful Russian team and it looks like they got very lucky!!! But I am sure the team's amazing talent played a role as well ;0)
So to summon it up, the Czechs are the kings, Russians took a 2nd place, Sweden is 3rd and Germany 4th.
CONGRATS to our MASTERS!!!!!!!!!!!!!!!!!!!!!!!!!!!!!!!!!!!

CZ: Cesi jsou po peti letech opet mistri sveta v hokeji! Dnes odpoledne totiz porazili 'nezdolatelne' Rusko v Koline nad Rynem 2:1. Mnoho lidi cesky tym podcenovalo, protoze sestava z mnoha novacku a hokejove hvezdy jako je Jaromir Jagr hraji vetsinu roku se zahranicnimi tymy, takze moc casu na trenovani cesky tym  jako celek moc nemel. Ale jak se ukazalo, i pres vsechny prekazky, Cesi opet zdolali cely hokejovy svet, a jsou mistri sveta.
Ve shrunuti, Cesi jsou jednicky, Rusko je na miste druhem, Svedi na tretim, a Nemecko na ctvrtem miste.
Gratulujeme nasemu neporazitelnemu tymu!!!!
If you liked this post buy me a coffee! (Suggested:$3 a latte $8 for a pound) Thanks!