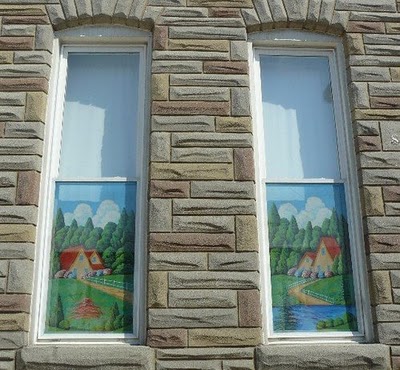 Do you know what I love the most about blogging with Czechmate Diary? I learn something new almost every day! For instance, take this example: did you know that Baltimore used to have a neighborhood called Little Bohemia? I had no idea this Maryland capital has traces of Czech heritage!
I guess the city is known for its painted screens (see image above), which seem to be a mark of almost every house. This popular art craze was started by a CZECH GUY, William Octavec, who in 1913 painted his first screen, illustrating goods for sale inside his store.
This eye-opening article was sent to me by one of you guys, so thank you! If you would like to read the whole story click here.
CZ: Vite, co se mi na blogovani s Czechmate Diary libi nejvic? Ze se neustale dovidam plno novych informaci. Napriklad toto: vedeli jste, ze Baltimore, hlavni mesto Marylandu, mival mestkou ctvrt zvanou "Little Bohemia"? A to neni vsechno! Toto mesto je pry take velmi zname svymi malbami na oknech skoro kazdeho domecku. Tento prazvlastni malirsky trend zacal v roce 1913 Cech William Octavec, ktery se rohodl pokreslit okna sve samoobsluhy obrazky zbozi, ktere bylo v krame k dostani.
Clanek mi poslala jedna ctenarka, tak ji za to vrele dekuji. Podrobnosti si muzete precist zde.

If you liked this post buy me a coffee! (Suggested:$3 a latte $8 for a pound) Thanks!