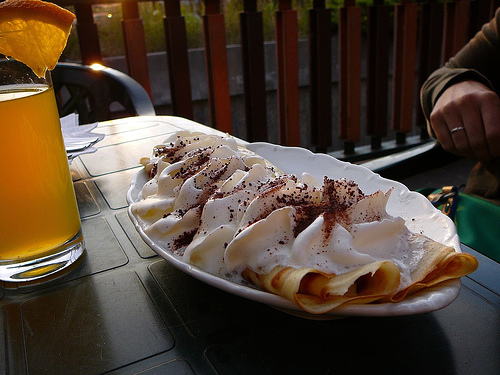 Since February is a love month (i.e. St. Valentine's Day) I decided to provide you with a sweet recipe – the Palacinky!! Palacinky are the French-style crepes but better. The wonderful thing about them is that you can have them sweet-style (like in the recipe provided bellow) or you can serve them salty-style, filling them up with some warmed-up spinach, bacon, roasted garlic, shredded cheese – and I cannot write about this anymore since my mouth is filling up with drool – you get the point. Enjoy!!!
PS: I attached a very fitting  YouTube video which will entertain the little ones but it can also be used as a language learning tool since the piggies talk quite slow :o)
CZ: Jelikoz unor je mesic lasky, recept na sladoucke palacinky se sem hodi jako ulity! Nic vam o nich nemusim vysvetlovat, kazdy tento bozsky pokrm zna. Co je ale dobre na tomto receptu je to, ze jsem ho predelala do americkeho (nemetrickeho) systemu. Prilozene je take kratke palacinkove video, urcene zejmena  pro ty nejmensi. Dobrou chut!

PALACINKY
Batter (for about 4 pancakes):
2 cups of milk
2 egg yolks
1 Tbs sugar (leave the sugar part if you are going to make the the salty way)

1/4 Tsp salt
  3/4 cup of all-purpose flour (= 0.65 cup; or 8-10 Tbs)
vegetable oil
Filling
fruit yogurt and/or jam
fresh fruit
Nutella
Toppings
Whipped cream
powdered sugar
powdered cocoa
cinnamon

chopped almonds or wallnuts
Method:
Mix flour with salt
Mix egg yolks with sugar and milk and slowly pour this mixture into the salted flour
Mix the batter until it looks very smooth
Lightly grease a small, non-stick pan and wait until the oil gets hot (med-high)
Pour a thin layer of the batter on the pan, using a ladle
The hard part: when one side seems to be done (about 2-3 minutes), flip the palacinka using spatula
Once palacinka is done, scoop it with your spatula on a plate (Fig.1)
spread jam and/or yogurt (or Nutella) all over the palacinka surface
Roll it into a tube
Top with fresh cut fruit (strawberries, bananas..) and whipped cream
Sprinkle with  cocoa powder or cinnamon
CAUTION: Individual servings = 1 – 8 palacinkas depending on one's appetite! You may have to double up on that batter!!!
Here is a short children YouTube video on how to make (or not make??) palacinky 🙂
If you liked this post buy me a coffee! (Suggested:$3 a latte $8 for a pound) Thanks!