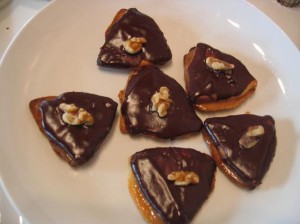 I have already revealed the "secret" recipes of Vanilkove Rohlicky and Linecka kolecka. The Christmas cookie journey is far from being over however. Czech Christmas would not be complete if one did not serve Orechove dorticky (Walnut Tarts). Many of you may know them under a completely different name such as "Grandma's circles" or "Chocolate circles" or some other names that I am not even aware of. As you will see from the recipe bellow, this Christmas dessert truly is a chocolate suicide. But who cares? It's Christmas – calories don't count!
CZ: V nedavne minulosti jsem vam jiz predstavila jak recept na vanilkove rohlicky, tak na linecka kolecka; to ale samozrejmne neni zdaleka konec vanocniho cukrovi – spise zacatek! Dnes se podivame na Orechove dotrticky, ktere jsou zname take pod jmeny jako "babiccina kolecka" nebo "cokoladova kolecka" (a vy je mozna znate i pod jinym jmenem!). Na rozdil od mych predeslych receptu, zdanlive nevinne orechove dorticky jsou prakticky cokoladovou sebevrazdou, nebo-li kalorickou bombou. Nastesti jsou ale Vanoce a kalorie se v prosinci nepocitaji…
ORECHOVE DORTICKY / WALNUT TARTS
Ingredients

:
Cookies:
2 sticks (1 cup) of soft, unsalted butter
2/3 (5 oz) cup of sugar
1 Tsp of grated lemon rind
1 Tbs vanilla extract
4 egg yolks
2 and 1/4 cups (18 oz) of all-purpose flour
1/2 cup of ground walnuts
Optional: 1Tbs of unsweetened cocoa powder (that's if you like things really chocolaty)

Filling:
1 stick of unsalted butter (4 oz)
2 egg yolks
1/4 cup of sugar
1 Tsp of vanilla extract
1 Tbsp of unsweetened cocoa powder
Topping
Ghirardelli dark chocolate bar for baking (4 oz)
walnut halves, about 1 cup
Method:
In a big bowl, mix in the butter, sugar, lemon grind, vanilla extract,

egg

yolks

and ground walnuts.
Slowly mix in the 1 and

3/4

cups of four.

Work the mixture into a dough and place it in the fridge for about 2 hours (or overnight)
Pull the dough out of the fridge and let it stand in the room temperature for a while until it is workable (about 1 hour)

The hardest part:

Roll out the dough onto a

floured surface

until it is about 1/4 inch thick (coat the pin with flour as well; as you are rolling out the dough, keep sprinkling it with a little bit of flour at the time to prevent sticking)
Use

cookie

cutters

to cut out the various shapes of cookies; keep in mind that the final product is going to be quite filling so the smaller the cookie, the better.
Transfer the cookies on an ungreased

baking

sheet

(use spatula for the transfer if necessary) and bake them for 10 to 12 minutes at 325 degrees F.
Let the cookies cool down.

Meanwhile, make the cookie filling:

In a medium-sized bowl whisk together sugar, cocoa powder, vanilla extract and egg yolks. Add in the butter (room-temperature) and whisk everything together until the mixture appears smooth and creamy.

Spread the cream on top of a cookie and cover it with another cookie to make a cookie sandwich; make sure that the cream layer is thick, about 1/4 of an inch (see image 1 bellow). Also, use a cake tube to layer the filling on the top of a cookie so that the sides don't get messy. Continue creating cookie sandwiches until there are no more "naked" cookies left
Melt the chocolate bar according to the directions on the bar package
Dip one side of each cookie sandwich into the chocolate
Top each cookie with a walnut half (see image 2 bellow).
If you liked this post buy me a coffee! (Suggested:$3 a latte $8 for a pound) Thanks!