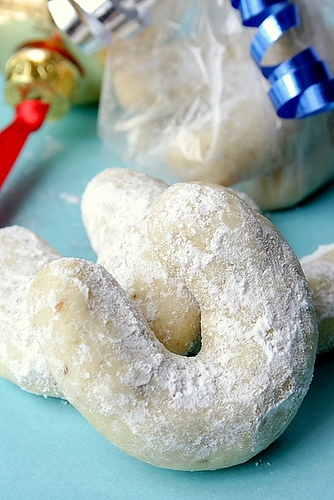 If you haven't tasted vanilla crescents (vanilkove rohlicky) yet you haven't quite lived your life into the full. They are absolutely the best Christmas cookies this earth has ever had. Despite the simplicity of the recipe some kind of a Christmas magic happens during the cooking process and an art of perfection is born…
My grandma would always make batches and batches of Vanilkove rohlicky so that we wouldn't run out during the Christmas season. Since we helped ourselves to them about 10 times a day – despite my grandma's attempts – we ended up being out of them about 3 days after Christmas. Then we had to "get to work" and finish up the rest of the other Christmas cookies; what can I tell you…life was rough back then!
Ingredients:
1/2 lb (2 sticks) of unsalted butter, softened
1/2 cup of sugar
2 cups of all-purpose flour
1 Tsp of vanilla extract
1 egg yolk (optional)
1 1/4 cups of ground walnuts
1/2 tsp salt
about 2 cups of powdered sugar (confectioner's sugar)
ground up skin from 1 lemon


Method:
Mix butter, sugar, salt, vanilla extract, egg yolk and walnuts together
Mix in the flour (1/2 cup at a time)
Shape the dough into a ball, wrap it in wax paper and refrigerate for about 30 minutes
Preheat the oven for 325 degrees
Lightly butter two 12″ x 12″ baking sheets
Pinch off walnut-sized pieces of chilled dough and place them on a floured board
Rolled each piece into a strip about 1 inch wide and 1/2inch thick; shape each piece into a crescent (semi-circle)
Arrange the crescents at least 1/2 inch apart on the baking sheet
Bake in oven for 12 to 15 minutes
Transfer them onto a cake rack and coat them with powdered sugar while they are still warm
Enjoy!
Note: one can substitute ground walnuts for ground almonds as well.
Another note: the older the cookies get, the better they taste! Store them in the fridge.
If you liked this post buy me a coffee! (Suggested:$3 a latte $8 for a pound) Thanks!