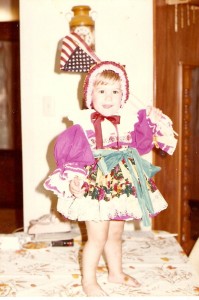 This is unfortunately the final part of my interview with Jana (for part 1 click here, part 2 click here and part 3 click here). What a journey it has been! So sit yourself comfortably in your chair and enjoy her last words…
CZ:Toto je bohuzel posledni cast meho rozhovoru s "nasi" Janou (cast 1. najdete zde, pro cast 2. kliknete zde a cast 3. je zde). Diky ni jsme si zavzpominali na stare casy, a to nejen na ubrouskove svaciny…."nikdy se nevraaaatiiiiiii pohaaadka mlaaaaadiiiiiiiiiiii….."

5/  You voiced some disappointment about the recent outcome of the "Patriots in exile" conference (held in Prague this October) and their opinion on the new Eurogeneration. Can you explain your stand on this issue a little bit?
It is upsetting to me that people make general statements without doing some research. Maybe this speaker's experiences with the youth in her country is accurate but it might not be in other countries. Some Czechs believe that just because émigrés left, they left their culture behind and did not pass it down to their children. That is not true 100% of the time. I would classify them into two groups of émigrés: one group that totally burned their bridges and taught nothing to their kids. Their experiences with the totalitarian regime was something they would rather forget. They grew to like their new home and roots began to take shape. The second group were passionate about their culture and taught their children not be ashamed of it. Even though their "Stara vlast" was communist they founded cultural and heritage organizations and waited for communism to end. They knew it had to end because communism was based on lies and anything based on lies has got to collapse. They kept the culture alive even though the communist government spread lies about them and spied or had informants in their adopted countries. Their families in Czechoslovakia did not have it easy due to their emigration. Émigrés came to Austria, Germany, US, Canada with only a couple of dollars and the clothes on their backs. Before they could go anywhere they spent several months in relocation/refugee camps. In their new country they did not know anyone, had to learn a foreign language, faced discrimination yet they still thought it was important to keep a part of their homeland in their hearts.

Yes, I am proud that coming to America or Canada without knowing anyone, the language, leaving deep roots in one country and having the tenacity and ingenuity to make it in a foreign country. People in the Czech Republic have the impression that everything in America will come easily to them but it takes a lot of hard work to educate yourself and start over with nothing.
Personally, my family participates in various cultural heritage organizations, SOKOL, dress in our kroje and genealogy groups. Most importantly we share our culture with others. We speak the language, celebrate Christmas the same as in the Czech Republic. We have not lost our cultural identity. Whether countryman or émigrés are fifth, tenth or first generation we all know we are from Cechy, Moravia and Slovakia. When I speak to children they know that are Czech. I believe as crazy as it sounds of something is within us, a yearning about the Czech lands which makes us find out about who we are. Eventually, the children of the émigrés who were not taught anything will get curious and will want to find out about their heritage. Everyone once they have children and have to do a school project or have their children ask "Where do we come from?" will have to answer.  They will stop feeling indifferent; I have met such people.
6/ Anything else you would like to add?
I am always feel the need to show people in the US that Czech culture is not all about drinking beer. It is about music, history, athletics, science, politics, folk songs, language, film, art, sculpture, architecture. I try to teach the youngest of children in Texas about Czechs in America and those in the Czech Republic. Then when I go to the Czech Republic I am looked at as divna, which means weird, that I would take an interest in this culture. They do not have positive to say about the US, which is partially our fault due to our politics, but yet they are eager to come to the US. We as descendants of Czechs/Moravian immigrants have helped financially when Prague flooded, Moravia flooded, donate artifacts to their museums dedicated to immigration to Texas from the Vallachia region, invite their folklore groups to perform, and raise money to have the Czech language taught in Texas. So I just do not understand why they judge us not as individuals, believe in various stereotypes and judge us based on our president.
THANK YOU SO MUCH JANA FOR THE WONDERFUL INTERVIEW!!
If you liked this post buy me a coffee! (Suggested:$3 a latte $8 for a pound) Thanks!