So it is finally here. After McDonald's, KFC, Subway, Pizza Hut and Starbucks, Prague has just recently given into yet another fast food restaurant – Burger King. Fortunately with this one the store is not located in the middle of the historical center like it is with McDonald's or KFC – disgracing the neighboring 16th century Renaissance architecture (see the picture bellow). The first Burger King has found its home in the newly opened shopping center in Zlicin, far away from the downtown of Prague. It may be just a matter of time however, when another one of those "Kings" invades the Old Town square or some other Czech Mid Evil town and defiles its looks as well. Daniel Kaspar, the president of Burger king kind of supports my theory:"Our strategy is to be a dominant company in the region of central and eastern Europe". The next plan for this company is to build Burger King chains in Slovakia, Poland, and Bulgaria.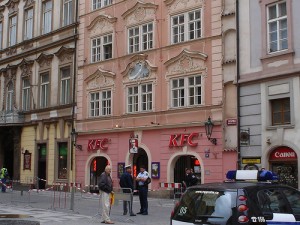 I just don't understand this. The UNESCO gets all bend out of shape because the Czechs are planning on building a skyscraper that is couple of stories higher than the UNESCO "police" allows for but the fact that all these fast-food chains just butcher the 14th century architecture of this country is just fine and dandy with them!
CZ: Tak je to konecne tady. Zacarovany kruh fastfoodoveho retezce v Cechach – hned po McDonnald's, Subway, KFC, Pizza Hut a Starbucks – nyni uzavre Burger King. Oproti McDonnalds an KFC je ale lokalizovany daleko od historickeho centra Prahy, a to v nove otevrenem nakupnim stredisku na Zlicine. Je ale pouze otazka casu, kdy se jeden z techo "Kralu" otevre nekde na Male Strane nebo napriklad  hned vedle Chramu Svate Barbory v Kutne Hore. Pan Kasper, president spolecosti dale potvzruje mou prognozu: "Nasim cilem je byt dominantni restauracni spolecnosti v regionu stredni a vychodni Evropy". V blizke budoucnosti pry Burger King miri take do Polska, Bulharska a na Slovensko.
Ja tomu proste nerozumim. UNESCO se rozciluje nad tim, ze se Praha chysta stavit mrakodrap, ktery je o par poschodi vyssi nez je UNESCem dovoleno, ale to, ze nam ohyzdne KFC sedi hned vedle Karlova mostu ze 14. stoleti, to jim nevadi…
Sources:
http://praguemonitor.com/2008/11/07/burger-king-wants-rule-%C4%8Dr
http://www.abcprague.com/2008/11/24/burger-king-comes-to-the-czech-republic
If you liked this post buy me a coffee! (Suggested:$3 a latte $8 for a pound) Thanks!