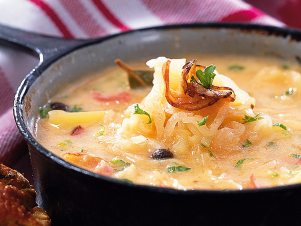 I consulted three cookbooks for this recipe of which one is taken from the "Velka Kucharka"(Big Cookbook) by Brabec – a favorite cookbook of my mom's. "Velka kucharka" was written during deep communist times (1969) so the authenticity of this recipe is 100% guaranteed…
ZELNACKA
Ingredients:
7 0z. Sauerkraut
6 cups of water
2 potatoes, diced
2 tbs. of flour
1 onion,diced
4 slices of bacon
Polish sausage (kielbasa)
5-10 white mushrooms, diced
1 tsp. Caraway seeds
1-2 tsp. Sweet paprika
Saute finely diced bacon
Add sliced Polish sausage, mushrooms and onion; saute for about 5 min.
Sprinkle with flour and stir everything around

Add drained sauerkraut, diced potatoes, caraway seeds and paprika and stir
Add water, salt and cook until tender
Optional:

top with sour-cream before serving
PS: Also, if after tasting the finished soup, you still feel like it needs something, try to add a little bit of the sauerkraut juice and a little bit of sugar (to balance the acidity out)
If you liked this post buy me a coffee! (Suggested:$3 a latte $8 for a pound) Thanks!