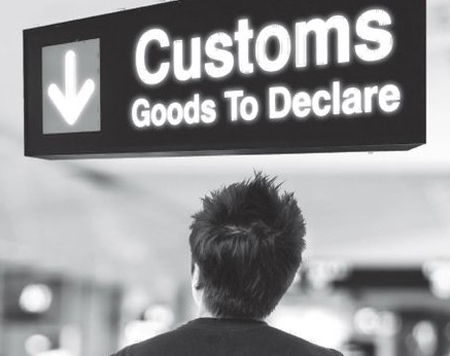 I hear horror stories from my Czech friends when it comes to the customs at the airport. How many valuable things they got taken away!!! They may not look that valuable to a bystander but to us – Czechs growing up in the Czech Republic – those are priceless! For instance, my girlfriend lost Uherak that way – they just cut it in half and threw it in the trash right in front of her eyes. Uherak is a Czech salami (actually originally a Hungarian salami) that is just the best and of course, you can't get in anywhere else but in Czech. My personal story is not that dramatic, I lost a couple of bottles of Becherovka, a glass jar of honey but that's about it.
What else did they take away from you? Do you have a story??

CZ: Urcite  jste take slyseli hororove prihody o americke celnici, kolik DRAHOCENYCH veci bylo nam, Cechum a Slovakum zabaveno. Ja osobne jsem ztratila 'pouze' par lahvi Becherovky a sklenici medu. Ale ma kamaradka napriklad prisla o Uherak (!!) – prezizli ho pred jejima ocima napul a hodili ho do kose :(((((((
A co vy – mate nejakou celnickou prihodu, s kterou byste se chteli s nami podelit?
If you liked this post buy me a coffee! (Suggested:$3 a latte $8 for a pound) Thanks!