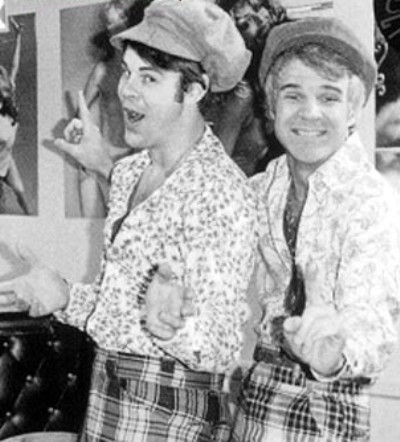 I have just recently discovered the two Wild and Crazy Guys skit from Saturday Night Live. I was pleasantly surprised and also proud in a sense that a tiny bit of Czech culture got into such a famous American show! Are you telling me that Steve Martin and Dan Aykroyd actually impersonated 2 Czech guys?? That's pretty cool!
I dug out a YouTube video of these 2 dudes and it is pretty funny. Mind you, this was shut in about 1977, during the deepest communist era and 'the wall' was higher then ever. My husband remembers watching this as a little kid and laughing like crazy -little did he know he would eventually marry a 'wild and crazy' Czech girl! The funniest thing is that their 'Czech' names are really not Czech at all – Georg Festrunk and Yortug Festrunk? – they sound more like Swedish names if anything. Also, Steve Martin and Dan Aykroyd tried to speak 'Czech' and again,sorry to say, it sounds more like some kind of a Moon language ;0)
CZ: Nedavno jsem narazila na americanum velmi zname 'ceske' postavicky ze Saturday Night Live – bratry George a Yortunga Festrunky, neboli "Wild and Crazy guys". Citila jsem se dosti pysne, ze se trosicku z nasi ceske kultury dostalo do tak zname americke show! Tento skit byl natoceny kolem roku 1977, tedy behem hlubokeho komunismu, ktery v teto dobe vladl nejen v byvalem Ceskoslovensku.  Muj manzel si pamatuje, jak se na tento program dival, kdyz byl jeste maly kluk a prislo mu to vsechno samozrejmne hrozne vtipne. Ani by ho ve snu nenapadlo, ze se v budoucnosti ocitne pred oltarem s 'wild and crazy czech girl'! '
Nejvtipnejsi na tom je, ze producenti SNL moc toho patrani o ceske kulture nepodnikly, tudiz cesti bratri nezni vubec cesky a jejich jmena zni spis svedsky, norsky nebo zkratka ufonsky ;0)


If you liked this post buy me a coffee! (Suggested:$3 a latte $8 for a pound) Thanks!