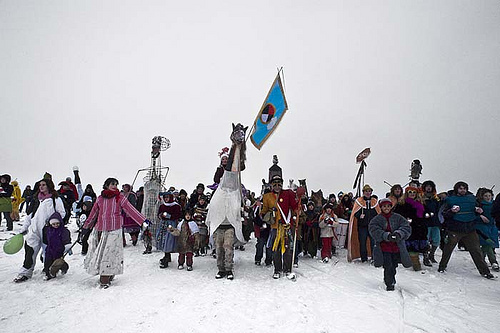 I don't know if you have felt the presence of Masopust (meaning "Goodbye to meet") but it is officially over. Maspust is a Czech-style Carnival, which is surprisingly celebrated differently by almost every single country in the world. A lot of the countries like Italy or Brazil  have a huge colorful dress-up party during this season (Brazilian carnival in Rio De Janeiro is the biggest one, Americans celebrate Mardi Gras in New Orleans…), whereas some states keep to the Roman-Catholic tradition, meaning that one has the last opportunity to celebrate and eat rich foods such as meat, diary, fat and sugar before the start of the 40-day Lent period. The Czech Masopust takes place from Epiphany (The Three Kings day; January 6th) until Ash Wednesday. Czech people usually have a big dress up party at the end of Masopust which most often includes roasting of a fat pig and drinking a bunch of beer and vodka, including the policemen (if you don't believe me see the YouTube video bellow). This tradition is most common in Moravia which has more religious people than in the Bohemian part of the Czech Republic. Slovakia calls Masopust Fasinek and what is interesting about their tradition (correct me if Wikipedia is wrong on this) is that at the end of Fasinek (midnight) they have a symbolic burial ceremony for the contrabass since music has to cease for the Lent as well. Pretty interesting, righ? What do you remember of Masopust/Fasinek (if you have any memories of this holiday season)?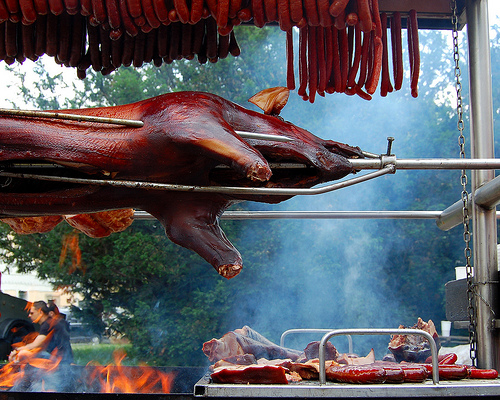 CZ: Nevim, jestli jste si vsimli, ale dnes konci obdobi Masopustu. Masopust se mi matne spojuje s taborakem a pecenym prasetem, ale to je asi vsechno. Proto jsem si skrze psani tohoto clanku tzv. zastupovala diry nevedomosti! Vite, ze ho skoro kazda  zeme slavi uplne jinak? Mnoho zemi ma obrovsky pestrobarevny karneval (jako nejvetsi karneval na svete v Rio De Janeiru nebo americky Mardi Gras v New Orleansu) a jine zeme dodrzuji vice tradicnejsi pojeti tohoto originalne rimsko-katolickem svatku, coz je obdobi radovanek a hodovani pred zacatkem predvelikonocniho pustu. V Cechach tento svatek zacina 6. ledna – dnem Tri Kralu – a konci na Popelecni stredu; vetsinou se slavi opekanim prasete (ktere se samozrejme zapiji pivem nebo vodkou- nebo obojim) a slavnostni maskaradou a to zejmena na Morave, ktera ma vice vericich, nez oproti zbytku Ceske republiky. Na Slovensku se Masopustu rika Fasinek, ktery je v pulnoci zakoncen masopustnim "pochovanim basy", symbolizujici na 40 dni konec tanecnich a hudebnich veselic. No neni to vsechno tak zajimave? Co si z Masopustu/Fasinek pamatujete vy? Jestlize si ho chcete pripomenout, podivejte se na nize uvedene YouTube video!


Source:
http://en.wikipedia.org/wiki/Masopust
http://www.ceske-tradice.cz/cz/k2,34,102-masopust/c307-masopust-zvyky-a-tradice/
If you liked this post buy me a coffee! (Suggested:$3 a latte $8 for a pound) Thanks!