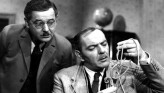 I have great news for you! Now you and your kids can watch Czech movies on-line! One of you guys, the awesome readers of Czechmate Diary, contacted me and fed me this tasty morsel (thank you Katka)! It is really simple:
Log on to the Ceska Televize website (click here)

Download the Video Download Manager (it's free)

Register
Charge your virtual account with an amount of your choice
Watch a Czech movie!!
The movie prices are very reasonable, ranging anywhere from 19 Kc to 40 Kc per movie. I am so excited! I can't wait to try it out! Let's see…what am I going to watch first…some all-time classics like "Chalupari" or "Navstevnici"? Or  some more recent movie I have never seen before?? All these choices!
PS: I just found out that they do not take international credit cards!!! So either pay it from your account in the Czech Republic, but if you don't have ask your relatives/friends to charge that account.

CZ: Mam pro vas skvelou zpravu!! Vite, ze se ted muzete divat na ceske filmy skrze interntet?? Je to pravda! Jeden z vas, ctenaru Czechmate Diary, me na to upozornil (dekuji Katko!). Jak na to? Postup je velmi jednoduchy:
Nalogujte se na webove stranky Ceske Televize
Stahnete si zdarmva Video Download Manager
Zaregistrujte se
Nabijte si svuj ucet
Stahnete si jakykoliv film!
Ceny filmu jsou velmi rozumne, pohybujici se mezi 19 Kc az 39 Kc. Uz se nemuzu dockat, az si pustim klasiky jako jsou Chalupari nebo Navstevnici!! Nebo ze bych se podivala na neco novejsiho?? Jeje, to je vyberu..
PS: Bouhuzel jsem zjistila, ze ceska televize zahranicni platebni karty neprijima 🙁  To znamena, ze bud se zeptejte vasich pribuznych v Cechach, aby vam ucet nabili, anebo jestlize mate v Cechach ucet, zaplatte za tyto sluzby skrze nej.

http://videopujcovna.ceskatelevize.cz/main.ctvod
If you liked this post buy me a coffee! (Suggested:$3 a latte $8 for a pound) Thanks!