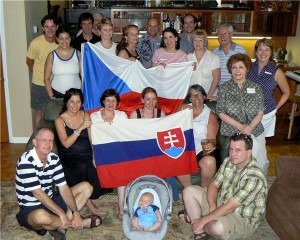 Do you know what is special about this great group? That it was started by an American guy, Mike. Mike's dear wife has some Czech heritage in her, which led him to not only start a Czech/Slovak Meetup group in Raleigh but also to enroll in a Czech course at the local university. His "obsession" with the Czech language (as he likes to say) led him to guest post on Czechmate diary more than once and I am so grateful for it because he is a such a great and witty writer. His humor is so dry at times I think that he must be Czech…at least like 1/30th of him, anyway. That's enough of my babbling, let's hear it from Mike:
CZ: Vite, co je nejzajimavejsi na teto skupine? Ze byla zalozena Americanem! Mikova manzelka ma v sobe nejakou tu ceskou krev, coz Mika podnitilo, aby nejen ze zalozil cesky a slovensky Meetup,ale take se na mistni universite pilne zapsal do kurzu ceskeho jazyka. Jeho – jak to Mike sam tvrdi – "posedlost" s ceskym jazykem ho take navedla na Czechmate diary, kde nas poctil mnoha velmi zajimavymi (ale take hrozne vtipnymi) clanky o svych zkusenostech s ceskym jazykem a ceskou kulturou. Mikuv humor je nekdy tak suchy, ze ho podezrivam z toho, ze je take z casti Cech/Slovak… mozna alespon z 1/30tiny??
1.    How did your group begin?
I made a conscious decision to learn Czech in Sept. '06.  I knew no one who spoke Czech and my only connection to the language was that of my wife whose mother was Czech though neither my wife nor her mother knew the language.  My desire to learn Czech quickly grew into an interest (my wife would say 'obsession') to know of all things Czech; culture, history, music, cuisine etc.  However, I still knew no one who spoke Czech.  I learned about meetup.com through a Swedish neighbor (whose wife and he have since joined our group because they like the European feel).  Dekuji Anders.  I learned that several people in the Raleigh area were just waiting for someone to organize a Czech group through meetup.
After waiting a month, I decided to organize the group myself even though I was not Czech.  Why not?  I stated that "until I hear this language, I will never speak it".  So, in June of '07, we held our first meeting, all four of us; my wife and I, a person of Austrian, Polish, Ukrainian and Lithuanian heritage and one actual Czech speaker who subsequently became my assistant organizer (dekuji Nikolka).  My wife made a cherry noodle casserole (Moravian we think) and that was our modest beginning.  Since then, we have grown by word of mouth in very quick fashion and decided to include a Slovak interest as well.  We now number 68 members on our site with about 40-45 active members.  I believe that this is the highest per capita membership of any Czech group through meetup.  We consistently have 20-30 members attend each of our events which is a very high percentage of total members compared with other such groups.

2.    How often do you guys meet?
We meet about every 4-6 weeks.  We have met at member's homes, a sports bar, a coffee shop and a German-Polish restaurant (no Czech or Slovak restaurant at that time).  This, after all, is Raleigh, North Carolina and not known previously as a hotbed of Czech culture.  (It is now!).  However, we just met at a new Czech restaurant (Klara's) which we will likely make our 'home'
3.    What do you usually do?
Besides my rather pitiful attempts to speak and hear Czech, this group has expanded far beyond just language as a focus.  We have had grilled sausages (parky), listened to Czech music (three members play the guitar – dekuji Franta, Mike and Zdenek), made kolace (dekuji Margie and Rich), danced and learned the polka and had a blind Czech/Slovak beer tasting (I even slipped in an American Budweiser which placed a dismal last place).  We have toasted (na zdravi!) with that most wonderful concoction, Bechorovka.  And, of course, certain members force me to sit with them and speak Czech (dekuji Hana, Adela, Simona and Marcela).
4.    What language do you speak at these meetings? Czech/Slovak or English?

We are a mix of languages and heritage; fluent Czechs and fluent Slovaks (either naturally or learned), mixed heritage who may or may not know Czech/Slovak but who wish to keep 'alive' their heritage and a few, like myself, who have no heritage from the region but have the desire to know.  So, you might picture this group in action.  When 'speakers' sit together, you hear Czech or Slovak (or the close mix) and when speakers sit with non-speakers, you hear the default English.  Occasionally, you may hear Swedish as well (when the Czechs who lived in Sweden sit with the Swedes).  It can boggle the mind.
5.    Do you understand the Czech nature better now?
I'm sure I do but I'm hard-pressed to answer this.  Mostly I find good people who have found a cultural home by virtue of being with others who have a varied but ultimately, a common bond.  From my travels in Czech, I already knew that the stereotypic unsmiling Czech of the guidebooks was not easily found.  All the other 'typical' statements were not true either.  The same is true for this group.  I love the dry sense of humor I find here and that trait, I think, is the most outstanding.
Not knowing what I began when I started the group, I'd have to say that this is a group that is all about connections and bringing people together.  Whether it is two members finding that they are from neighboring towns in Czech or two others finding parallel stories of leaving Czech in 1968 or just helping the owner of this new Czech restaurant find a way to import Czech/Slovak wines, it is all networking and finding matches.  It has been an absolute delight for me to help bring this about.
PS: wondering how is the Czech/Slovak group doing in New York? Click here!
If you liked this post buy me a coffee! (Suggested:$3 a latte $8 for a pound) Thanks!