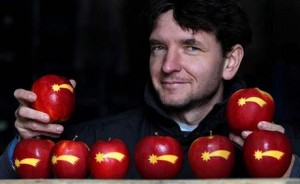 If there was an apple for every season how do you think the Christmas apple would look like? How about having an imprint of a real Bethlehem comet on its skin? Because that is what Josef Thor's apples look like. Josef is a well-known apple grower who won the title of the "Apple of the Year" many times in his apple-growing career. How does he achieve such Christmas magic? The "magic" is actually a very simple science: just before the apple becomes ripe, Josef puts the comet sticker on its skin and then he waits. As the apple ripens, the star's surrounding area becomes red while the area under the sticker stays yellow. But that is all Josef wants to reveal – the rest of the experiment is a top secret. Guess what is he planning for February? The Valentine's apples!

CZ: Kdyby jste si mohi koupit jablko pro kazde rocni obdobi, jak is myslite, ze by vypadalo jablko vanocni? Co takhle jablicko s obrazkem betlemske komety? Tak totiz vypadaji jablka ovocnare Josefa Thore, ktery za sve pestitelske uspechy ziskal cenu Jablka roku jiz nekolikrat. Jak toto vanocni ovoce vlastne vykouzli? Pred dozranim pan Pepicek nalepi na jablko samolepku Betlemske hvezdy a pak ceka; zatimco okoli samolepky pri dozravani zcervena, pod ni zustane jablicko zlute. To je ale vse, co nam kouzelnik Pepicek ze svych tanjnych receptu prozradi. A vite co pripravuje na mesic Unor? No preci Valentynska jablicka!

Source: http://zpravy.idnes.cz/sadar-vypestoval-jablka-s-kometou-dro-/zajimavosti.asp?c=A081104_185200_zajimavosti_lpo
If you liked this post buy me a coffee! (Suggested:$3 a latte $8 for a pound) Thanks!