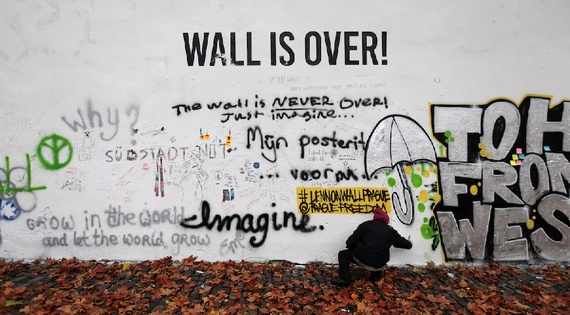 I am not sure if you are aware of the cruel fact that the  historic Lennon Wall in Prague is simply GONE. In order for you to understand why I capitalized those words, let me tell you a little bit of background info.
After John Lennon was assasianted in 1980, an unnamed artist painted a beatiful portrait of Lennon along with some of the Beattles lyrics. Of course, this was during a deep Communism, so Western images were strictly forbidden. The painting got quickly covered by some posters by the Czech police like nothing ever happened. Well, for some reason, John Lennon did never go away and became a symbol of freedom. Every time the Communist covered him someone would come back in the middle of the deep night and painted yet another image of John. And it would be like this until 1989 when the Velvet Revolution broke through the totalitarian regime. Thereafter the John Lennon Wall became not only the symbol of freedom but a new favorite tourist spot. Every time you read one of those 'Top 10 places to visit in Prague', the Wall was bound to be one of them. [click to continue…]
If you liked this post buy me a coffee! (Suggested:$3 a latte $8 for a pound) Thanks!