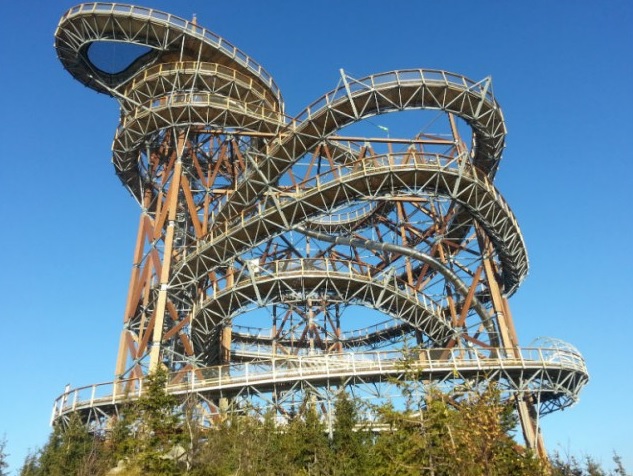 Moravia is kind of like the French Riviera of the Czech Republic: it is unique, extra beautiful and almost unblemished. Although my grandma was from there, I am guilty of visiting Moravia only once – when I was just a little pipsqueak that is.
No wonder every time I come across this Czech region in the news I tend to linger there to find out what is going on. This time I came across a strange image which my brain had hard time categorizing.  At first I thought it was some giant construction, then maybe a UFO  or perhaps a giant new roller-coaster. I had to read the whole article to find out what this thing was! And it turned out to be a new, 18o feet tall  HIKING TRAIL (tower?)!!!!
To tell you the truth, I am not that excited about the look of it but I am pretty excited about what it does:
to get from one level to the next, one can climb the so-called 'sleeves' made out of thick nets
in case a tiredness hits someone like a sack of bricks, there are hammocks available everywhere
What if you get to the top and want to get down a little faster? You can use a huge tube slide which brings you all the way back to the entrance (for my taste a little toooooo crazy)
So just in case you are climbing the Moravian mountains and you feel like you need to climb even higher – and perhaps touch the stars – this is a trip just for you ;).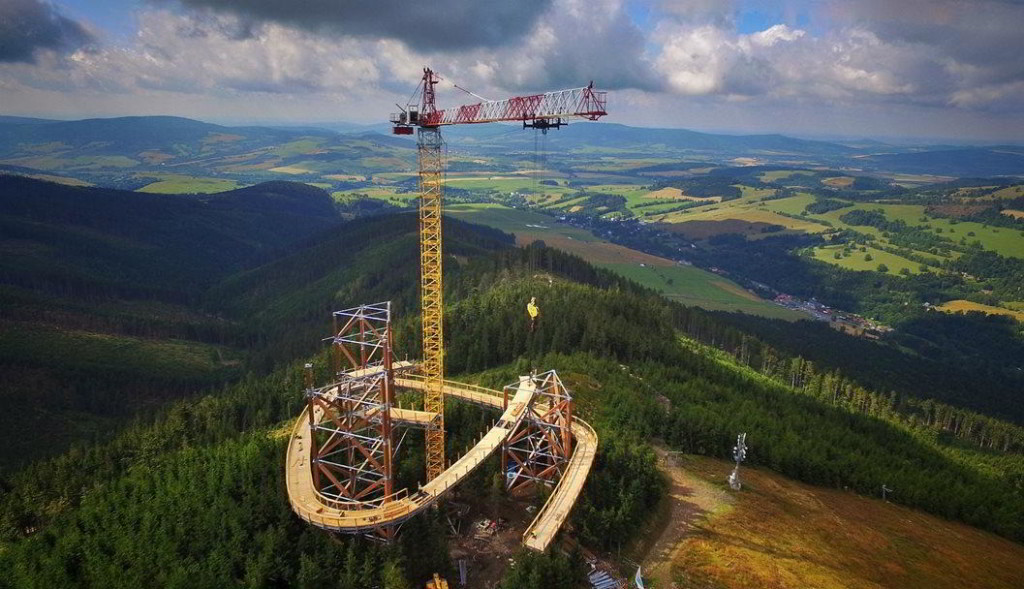 CZ: I kdyz jsem na Morave byla jen jednou, a to jen jako pouhy 6-ti lety prcek, jeji krasu nelze zapomenout. Od minuleho roku ji jeste vice zkrasluje (nebo hyzdi??) nova rozhledna. Z dalky vypada neco jako ufonsky talir a z blizka jako obr-horska draha. Ale uplne zblizka je to 'pouha' turisticka stezka, stoupajici do 55-ti metrove vyse.
I kdyz jeji zjev mi neni tak sympaticky, s funkci uz jsem mnohem spokojenejsi. Cestou nahoru si totiz muzete z jednoho patra na druhe 'urychlit' cas a pouzit tzv. kapsy, nebo-li provazove site. A naopak, jestli chcete zpomalit, nebo si dokonce dat slofika, stezka je vybavena mnoha sitovymi houpackami.
A co se stane na samem vrcholu? Nejdrive se vam asi zamota hlava ze samotne vysky; nebo do vas narazi nejaky kolem letouci ptak; tudiz bude asi nejlepsi, abyste se honem chystali zase dolu….ale tentokrat to muzete vzit  nerezovym toboganem s okynky!!!!
No proste, jestli jste z tech, co se radi dotykaji hvezd, tak tento vylet je presne pro vas.
Source:
http://www.kudyznudy.cz/Aktivity-a-akce/Aktivity/Stezka-v-oblacich-na-Dolni-Morave.aspx
If you liked this post buy me a coffee! (Suggested:$3 a latte $8 for a pound) Thanks!