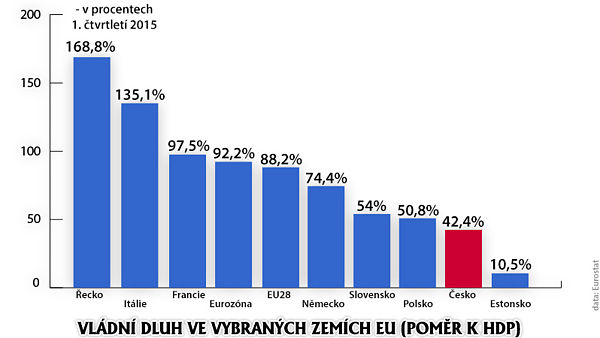 If you were following the European news at all, you know it is a mess out there, especially with Greece, which is currently owing $271 million to its international creditors.
The Czech Republic owes about $70,000 which is not bad at all when compared to other EU countries. The lowest debtors are Estonia, Luxembourg and Bulgaria.
"It is very easy to get used to borrowing money all the time and thinking that one can repay other debts with it as well as restart the country's economic growth," says a Czech financial anayst, Petr Dufek.

The Czech Republic has recently decreased its debt even more which makes it the 7th least indebted country in the EU. Which kind of goes hand in hand with an old Czech saying that for only one Czech Crown (which is an equivalent to about one penny) any true Czech is willing to have his knee drill throw and through with a screw ;).
CZ: Neni naplat, ale Cesi si porad jeste nechavaji pro korunu vrtat koleno;). Chcete dukaz? Ceska republika je totiz sedmou nejmene zadluzenou zemi z cele Evropy! Nejhur je na tom samozrejme Recko (dluzi kolem 271 milionu dolaru) a nejlepe naopak zeme jako Estonsko, Lucembursko, nebo Bulharsko. Tyto zeme si tedy nechavaji vrtat asi obe kolena.
Source: http://www.novinky.cz/ekonomika/375678-cesko-je-sedmou-nejmene-zadluzenou-zemi-z-cele-eu.html
If you liked this post buy me a coffee! (Suggested:$3 a latte $8 for a pound) Thanks!